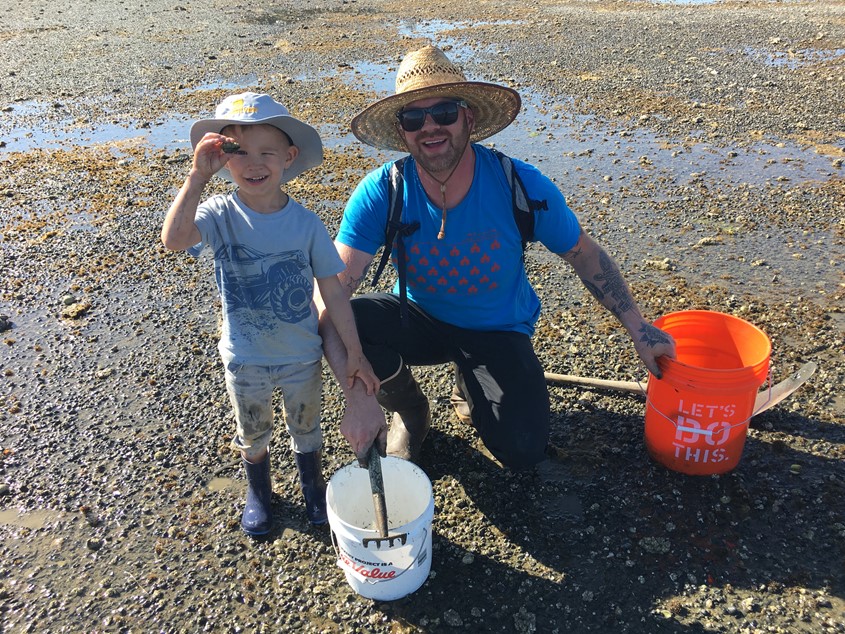 Digging for grub
This month, more than 40 hungry beachgoers hit the mud in Quilcene to go "Digging for Dinner". This popular annual event is hosted by Jefferson MRC and draws crowds of enthusiastic clam diggers eager to sift through mud in search of food. WA Department of Fish and Wildlife and Jefferson County Public Health joined the MRC to teach attendees the fundamentals of clam harvesting, including techniques, safety and sustainability.

"I was excited to do something I've never done before and keep learning." said Don Harold, one of the event participants. Another, Stacy Brotherton, added: "I really appreciate the information, our family uses the beach but wanted to learn more. And the name is clever!"

The MRC proudly continues to emphasize the connection between safe shellfish harvesting and individual water quality actions at these events.

To learn more about the Jefferson MRC, click here.
The Northwest Straits Commission is a regional coordinating body comprised of people who care about the marine areas where they live, and who work together to protect and restore marine resources.
The Northwest Straits Commission carries out regional conservation projects and supports the work of seven Marine Resources Committees through funding, technical support, training and regional coordination.
Find us on Facebook.     Follow us on Twitter.
More About Us and the Northwest Straits Region »
June Commission Meeting
June 28
Snohomish County Admin Building, Everett
Puget Sound Day on the Hill 2019

Northwest Straits Commission

This month, a variety of individuals and organizations traveled to Washington DC to educate Washington State's federal elected delegation on the importance of continued federal support for Puget Sound recovery as part of the third annual Puget Sound Day on the Hill event. Christina Koons (San Juan MRC) and Lucas Hart (NWS Commission Director) were among the 80 people who attended on Puget Sound's behalf.

Washington is fortunate to have a delegation that understands the importance of Puget Sound to the cultures, heritage and values of the region. Senators Murray and Cantwell, as well as Representatives Larsen, Kilmer, DelBene, Jayapal, Heck and Shrier addressed the group and recognized constituents as the "hardest working people in Washington". Each of them voiced their support for the important work we do to advance recovery and protection of our local waters and marine species. Thanks to our delegation, we can continue our work and keep people's hands in the mud!

Boaters learn how to Be Whale Wise

San Juan, Skagit and Whatcom

San Juan MRC joined forces with Skagit and Whatcom MRCs at the Anacortes Boat Show to co-host a booth and promote Be Whale Wise best practices around whales. Volunteers and staff handed out Whale Warning Flags to promote good boater behavior around whales, and educated Boat Show attendees on current Washington State law around boating and whales, including:

If you can see whales slow down! Slow down and reduce your speed to 7 knots or less when whales are within a half mile.
Stay 300 yards from Southern Resident orcas on either side and 400 yards ahead/behind the whales.
Stay 200 yards from Transient orcas and 100 yards from all other marine mammals.

San Juan MRC also held a social media raffle for Whale Warning Flags, with 5 Facebook fans winning a flag each day of the boat show. If you missed the boat (show), you can still get a flag and learn more about the program here.

Spring gardening benefits the Salish Sea

Jefferson

Spring is the time for planting, and last month Jefferson MRC installed their 9th rain garden, located at Lincoln and Adams St. in uptown Port Townsend. Concerns about water quality and storm water contaminants prompted the MRC to launch a multi-year effort in 2014 to install rain gardens like this in high priority locations.

Sending a huge THANK YOU to the twenty-three volunteers who joined the MRC, Washington State University Extension and City of Port Townsend to help plant the garden, as well as to Groundbreakers, the AAUW gardening group, who will work with the adjacent landowner to care for this garden.

The MRC has now helped install 6,572 square feet of long-term rain garden water filtration projects, which capture and treat storm water runoff, preventing contaminants from reaching local marine waters. Learn more about Jefferson MRC's work on rain gardens here.
Member Spotlight: Elsa Schwartz
Island MRC
Elsa joined Island MRC in January 2015 after she became intrigued by the concept of Marine Resources Committees while studying at the University of Washington under Dr.Terrie Klinger, a former San Juan MRC member and Northwest Straits Commissioner. The idea of a localized, bottom-up approach to protecting and restoring marine resources appealed to her as she was forming a career around her love of the marine world. Elsa is the Senior Director of Restoration for Restore America's Estuaries (RAE), an Instructor of Marine Science at Trinity Lutheran College in Everett and is also a member of The Coastal Society and the Coastal and Estuarine Research Federation.
Continue Reading »
Upcoming Events
Wednesday
June 26
6:00 PM

Port Hadlock, WA

Thursday
June 27
6:00 PM-9:00 PM

In honor of Orca Action Month San Juan MRC is hosting this screening of  the new documentary film by Patagonia,  Artifishal .

https://www.patagonia.com/artifishal.html

Brickworks, Friday Harbor

June Commission Meeting

Friday
June 28
10:00 AM-3:00 PM

Snohomish County Admin Building, Everett