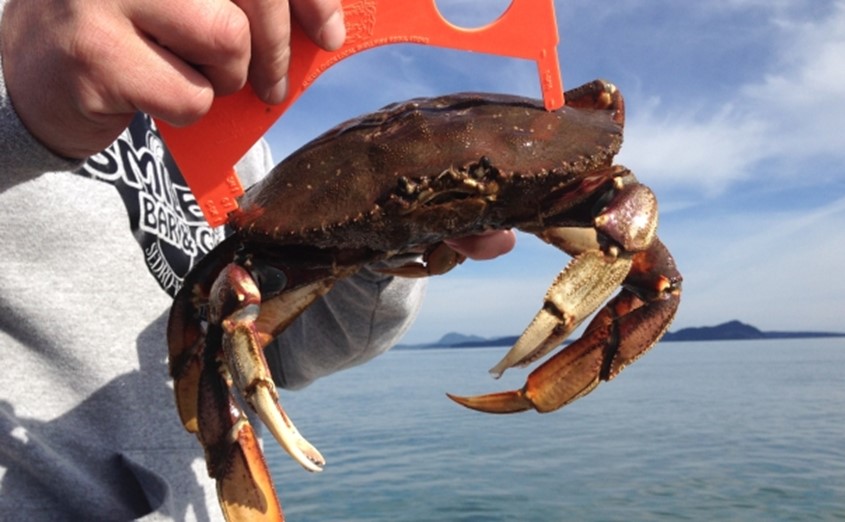 Crabbing season is coming - catch more crab
Catching crab is a fun outdoor activity, and a favorite local food we enjoy in the northwest. We know that crabbers set their pots and hope to come back to a big pile of lunkers to take home, but thousands of pots are lost every year in Puget Sound, leaving disappointed crabbers and wasted crab in those now-derelict pots.
To be sure you don't go home empty-handed, take a few minutes before the season starts to check your rig. The following tips are based on the most common ways pots are lost:
Make buoys more visible by adding a second buoy or a stick and flag.
Use a weighted line to sink below the surface and avoid being cut by passing boats.
Weight your crab pots so they don't move with currents or tidal changes.
Use longer line. Use 1/3 more line than the water depth to allow for changes in tides and currents.
Secure the lid and escape panels with biodegradable cotton cord so that crabs can escape if your pot is lost.
When you head out on the water, check the local tides and currents, and avoid high traffic areas like marine transit and ferry lanes.

Watch for volunteers sharing this information at boat launches and marinas this season, or grab one of our cards at many local retailers where crabbing gear is sold. This regional effort is happening in partnership with the Northwest Straits Foundation , WA Department of Fish and Wildlife, the seven Marine Resources Committees, and many other local partners and individual volunteers.
Learn more at www.derelictgear.org, and enter to win new crabbing gear by taking this short survey.
The Northwest Straits Commission is a regional coordinating body comprised of people who care about the marine areas where they live, and who work together to protect and restore marine resources.
The Northwest Straits Commission carries out regional conservation projects and supports the work of seven Marine Resources Committees through funding, technical support, training and regional coordination.
Find us on Facebook.     Follow us on Twitter.
More About Us and the Northwest Straits Region »
August NWSC Meeting
August 25
Island County
Marine renewable energy seminar series coming in August

Northwest Straits Commission

The crash of breaking waves and the relentless motion of the tides speak to the powerful forces at work in the ocean—forces that could be used to produce electricity. Although other forms of renewable energy have gained significant traction in recent years, the ocean is a yet untapped resource for electricity generation. What is the outlook for technologies that seek to generate power from, or on, the sea? Join experts from the UW Northwest National Marine Renewable Energy Center for an evening seminar about the ocean's potential contribution to future energy needs. Learn about the current status of marine energy research, and what forces will shape its development, particularly in Washington state. Discuss the environmental, social and engineering challenges (and opportunities!), as well as current research to understand and proactively address these issues.

Seminars are free and open to the public! The North Puget Sound events will be held Tuesday, August 8th, 6:30-8:30pm at Padilla Bay Reserve, and Monday, August 21, 6-8pm at the Northwest Maritime Center in Port Townsend. This series is coordinated by Washington Sea Grant, in partnership with the Northwest Straits Commission and the Skagit, Jefferson and North Pacific Coast Marine Resources Committees. For more information, please contact Meg Chadsey, WSG outreach specialist: mchadsey@uw.edu; 206.616.1538

Raingardens get a facelift

Jefferson MRC

Jefferson MRC members love their raingardens! On a sunny June day, several volunteers headed to five of MRCs gardens, including the plot near the courthouse in Port Townsend, to weed and plant new seedlings.

These raingardens are strategically placed throughout the community to help filter contaminants from entering local marine waters, and improve water quality in the Salish Sea.

Stay tuned to hear about Jefferson's newest raingarden, scheduled to be installed this September. Click here to learn more.

Elsa Schwartz, Island MRC

Island MRC

Elsa joined Island MRC in January 2015 after she became intrigued by the concept of Marine Resources Committees while studying at the University of Washington under Dr. Terrie Klinger, a former San Juan MRC member and Northwest Straits Commissioner. The idea of a localized, bottom-up approach to protecting and restoring marine resources appealed to her as she was forming a career around her love of the marine world. Elsa is the Senior Director of Restoration for Restore America's Estuaries, an Instructor of Marine Science at Trinity Lutheran College in Everett and is also a member of The Coastal Society and the Coastal and Estuarine Research Federation.

"I think the most valuable aspect of the MRC is that it provides an opportunity for community members to get involved with projects that make a difference for the marine resources that they themselves enjoy. They are able to see results from the work that they are doing locally." Thank you, Elsa, for appreciating and contributing to the important work of the Northwest Straits Initiative.
Member Spotlight: Al Bergstein
Jefferson MRC
Al Bergstein's, MRC Chair, interest in environmental issues goes back to the 1970s when he volunteered as a publicity director for Seattle Audubon. His career path spanned computer sales - back when personal computing was a fledgling industry - into work on the technical side that included twelve years with Microsoft.
Continue Reading »
Upcoming Events
July NWSC Meeting

Friday
July 28
10:00 AM-12:00 PM

This meeting will take place over WebEx

*Conference call*

Padilla Bay - Marine Energy Seminar

Tuesday
August 08


Check out the first of two public seminars exploring the potential of marine renewable energy in Puget Sound. Hosted by Washington Sea Grant and Northwest Straits Commission.

More details to come.

Padilla Bay Reserve

Saturday
August 12
11:00 AM-3:00 PM

Join Skagit MRC for this wonderful event, hosted at the Samish Indian Nation's Fidalgo Bay Resort.

The purpose of this free educational event is to increase public awareness of the marine environment and foster environmental stewardship.

4701 Fidalgo Bay Rd, Anacortes