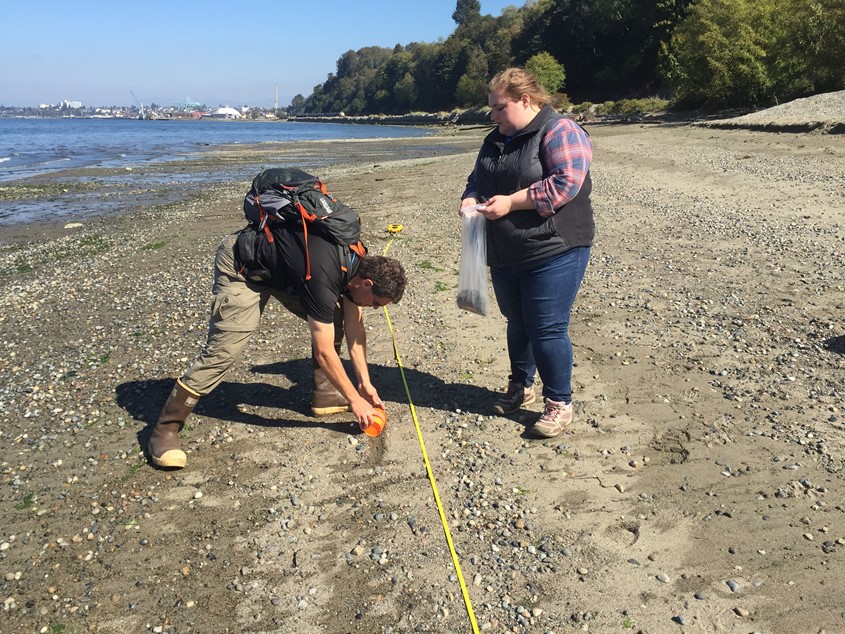 Forage fish find a comfortable home at Snohomish beach restoration sites
Snohomish MRC wants the healthiest county beaches possible, since many of them can serve as habitat for forage fish to lay their eggs. Since 2011, the MRC has surveyed for forage fish eggs at Powder Mill Creek, Narback Creek, Glenwood Creek and Howarth Park. In 2016, the MRC added special placements of sand known as "beach nourishment" as part of the MRC's Nearshore Restoration Project.
Since the project was finished in 2016, the Snohomish MRC has ventured back to the beach, sampling for tiny forage fish eggs at all of the nourishment sites. They are now working to analyze the data from the last six years, including pre-restoration and post-restoration, to determine the success of these nourishment on forage fish habitat.
Learn more about the work of the Snohomish MRC, and watch a time-lapse video of their restoration project.
The Northwest Straits Commission is a regional coordinating body comprised of people who care about the marine areas where they live, and who work together to protect and restore marine resources.
The Northwest Straits Commission carries out regional conservation projects and supports the work of seven Marine Resources Committees through funding, technical support, training and regional coordination.
Find us on Facebook.     Follow us on Twitter.
More About Us and the Northwest Straits Region »
April NWSC Meeting
April 28
Padilla Bay Research Reserve, Skagit County
Food Webs Can Be Fishy

Clallam

Clallam MRC recently hosted their first "Science Saturday" event with the theme Food Webs Can Be Fishy to share information about the vital role forage fish have in the marine food web.

Dozens of local community members joined in for hands-on demonstrations, activities for children and presentations from regional experts. Phil Dionne, research scientist on nearshore and forage fish ecology at WDFW talked forage fish, while Bob Boekelheide from Olympic Peninsula Audubon Society presented on local seabirds. Ed Bowlby, chair of the Clallam MRC, described the Pigeon Guillemot surveys MRC volunteers are doing in Dungeness Bay.

Learn more about the work of the Clallam MRC here.

Salish Sea Stewards kicks off 2017 classes

Skagit

The 2017 training series for a new class of Salish Sea Stewards kicked off this month with a record number of volunteers and a waiting list started for 2018 classes. When they graduate from the program in May, these local community members will be trained and ready to get their boots muddy on local shorelines.

Salish Sea Stewards contribute thousands of volunteer hours on forage fish surveys, native oyster restoration, invasive green crab surveys and many other citizen science projects.

Read more about this year's program and the work of the Skagit MRC and the Coastal Volunteer Partnership.

Tip of the month

Northwest Straits Commission

A nice soak in the hot tub sounds great on these blustery Northwest Straits days, but what to do with the water when it needs to be changed? Drain water into a sewer system to avoid streets and storm drains, or allow chemicals to dissipate and direct water into the ground. Why? Chemicals that clean and sanitize the water, such as chlorine, can damage gills and inhibit respiratory functions in fish.
Member Spotlight: Alan Clark
Clallam MRC
A person might wonder how a kid from the land-locked state of Oklahoma finds his way to a career in marine biology, but Ed Bowlby was inspired early on by the work of Jacques Cousteau. One thing led to another, and he made his way to California and then traveled further north along the Pacific to work in Seattle and Alaska.
Continue Reading »
Upcoming Events
April NWSC Meeting

Friday
April 28
9:00 AM-3:00 PM

This month's meeting will feature MRC project presentations and our annual election of officers!

Padilla Bay Research Reserve, Skagit County

Friday-Saturday
April 28-April 29
9:00 AM-3:30 PM

WSU Extension Beach Watchers partnered with Snohomish MRC and others to offer this inexpensive volunteer training on becoming a beach naturalist. Learn about marine life and how to share the knowledge with the public!

$35 materials fee. Applications due on April 7.

Rotation between Everett, Mukilteo and Edmonds.

Saturday
May 13
10:45 AM-1:00 PM

Learn all about harvesting steamer clams on local beaches from expert WDFW shellfish biologists, then dig for your dinner on the beach with their guidance. More info HERE. Register by clicking here.

Quilcene Bay WDFW Tidelands