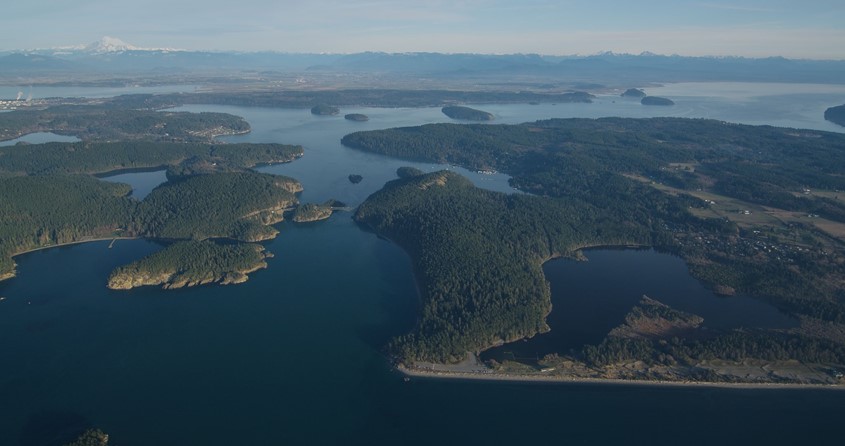 Happy New Year from the Northwest Straits Initiative!
Winter is a perfect opportunity to reflect back on the accomplishments of the past year, and what a year it was!
As we look ahead to 2018, we already know it's going to be eventful. We're kicking off a new project to help us evaluate and measure the effectiveness of our actions in improving the health of the Salish Sea ecosystem, gearing up for a new strategic plan, and MRCs are taking on scores of projects in their communities and on their local beaches.

We hope you'll join us in the new year to be part of this effort. Whether it's a 2-minute beach cleanup, joining a local MRC, or volunteering to support a project, everything we do adds up. On behalf of the entire Northwest Straits Initiative family, we wish all of you a happy holiday season, and a happy new year!
The Northwest Straits Commission is a regional coordinating body comprised of people who care about the marine areas where they live, and who work together to protect and restore marine resources.
The Northwest Straits Commission carries out regional conservation projects and supports the work of seven Marine Resources Committees through funding, technical support, training and regional coordination.
Find us on Facebook.     Follow us on Twitter.
More About Us and the Northwest Straits Region »
January Northwest Straits Commission Meeting
January 26
Skykomish Conference Room, Snohomish County Campus (Admin East Building, Room1F03), 3000 Rockefeller Ave., Everett, WA.
More Information
Skagit MRC's tide pool tips

Skagit

Helping visitors take care of the rocky yet delicate beach areas at Washington Park in Anacortes has been a goal of the Skagit MRC for years. Trained beach naturalists have provided interpretive programs since 2014, educating beach visitors about tidepools and proper etiquette to protect marine creatures. But, beach naturalists can't be there all the time, so to share information during times when beach naturalists aren't there, Skagit MRC worked with the Coastal Volunteer Partnership and the City of Anacortes to develop and install an interpretive sign earlier this fall.

The gorgeous visuals paired with action steps help visitors better understand the complex intertidal marine ecosystem, and provide simple guidelines for them to follow that protect the creatures that live there. A dedicated group of Salish Sea volunteers surveyed beach visitors to evaluate the effectiveness of the sign, with nearly 75% of those surveyed noting they had learned something new from the sign! Take a look next time you visit the beach, or learn more on the Skagit MRC website.

What is the impact of removed derelict crab pots?

The Northwest Straits Foundation and Snohomish County Marine Resources Committee are conducting a derelict crab pot removal project in the Port Gardner Study Area next month. This "Study Area" was established back in 2008 when crab pots were removed from the same area where removals had previously been done in 2004 and 2005. This will be the 10th removal at this location.

Along with reducing impacts to the local resource and marine ecosystem, multiple years of surveys and removals in the same area provide the opportunity to analyze gear loss over time, reasons for gear loss, and changes in rate of escape cord compliance.

Snohomish MRC special film series

Snohomish

Snohomish MRC is launching a special event series in early 2018 to educate and inform citizens on ocean issues and solutions. The MRC reviewed several possible documentaries and coordinated with professionals in the field. The films and topics include three main focuses:

-Puget Sound at the University of Washington Bothell on February 7 from 7:00-9:00 PM and Everett Community College on January 29 from 6:30-8:30PM featuring Return of the Kings  with facilitated discussion by videographer, Florian Graner.

-Freshwater Nexus at the University of Washington Bothell on March 1 from 7:00-9:00 PM and Everett Community College on February 28 from 6:30-8:30PM featuring Return of the River-Elwha Restoration.

-Open Ocean at the University of Washington Bothell on April 22 from 7:00-9:00 PM and Everett Community College on April 25 from 6:30-8:30 PM featuring Chasing Choral.

For more information, visit http://www.snocomrc.org/.
Member Spotlight: Paul Clampitt
Snohomish MRC
Paul Clampitt provides the MRC with detailed insight to the economic aspects of the fishing industry, specifically how to be environmentally conscious harvesting from the sea. A decorated fisherman, Paul owns the fishing vessel Augustine, has served on multiple government committees (the Advisory Panel to the North Pacific Fisheries Management Council & the Marine Fisheries Advisory Committee to the U.S. Dept. of Commerce), and is the Vice President of the Fishing Vessel Owners Association.
Continue Reading »
Upcoming Events
Friday
January 26
10:00 AM-3:00 PM

Open to the public.

Skykomish Conference Room, Snohomish County Campus (Admin East Building, Room1F03), 3000 Rockefeller Ave., Everett, WA.

Monday
January 29
6:30 PM-8:30 PM

Join Snohomish MRC for this special series of Puget Sound focused films and guest speakers.

Everett Community College

Wednesday
February 07
7:00 PM-9:00 PM

Join Snohomish MRC for this special series of Puget Sound focused films and guest speakers.

University of Washington Bothell