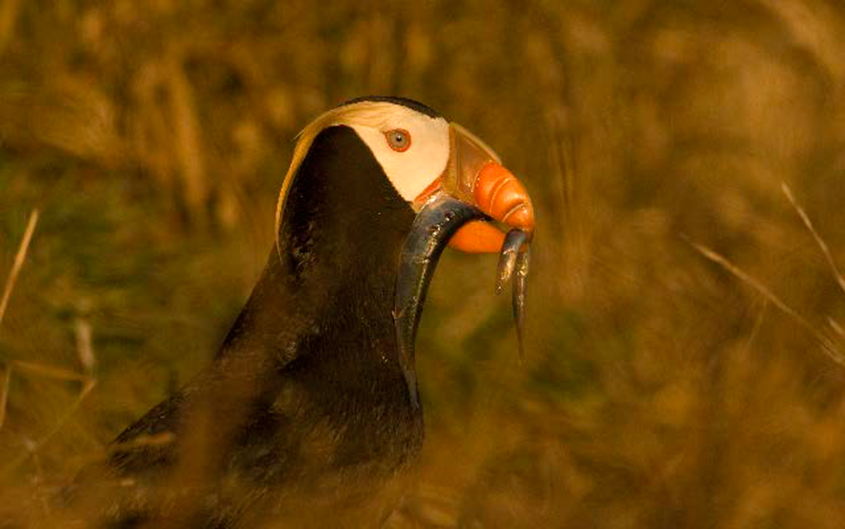 Public Comment Sought on Protective Status for Tufted Puffins
The Washington Department of Fish and Wildlife (WDFW) has recommended listing tufted puffins on the state's endangered species list and removing Steller sea lions from the state's threatened species list.
The public has two opportunities to provide comments on WDFW's recommendations. Written comments can be submitted through Jan. 23. A public hearing also is scheduled at the Feb. 6-7 meeting of the Washington Fish and Wildlife Commission.
Click here to review an updated status report on the tufted puffin.
The Northwest Straits Commission is a regional coordinating body comprised of people who care about the marine areas where they live, and who work together to protect and restore marine resources.
The Northwest Straits Commission carries out regional conservation projects and supports the work of seven Marine Resources Committees through funding, technical support, training and regional coordination.
More About Us and the Northwest Straits Region »
Northwest Straits Commission Meeting - January
January 30
Pacific Rim Institute, 180 Parker Rd, Coupeville, WA 98239
Winter Storms Keep WCC Crew Busy

In November and December, our Marine Debris Project assistant, Paul Argites, and Washington Conservation Corps (WCC) veteran crews spent two weeks removing plastic, styrofoam, and creosote-treated wood from Northwest Straits shoreline. The cleanup effort resulted in the removal of 4.6 tons of marine debris from Drayton Harbor, Padilla Bay, Bellingham Bay, and Whidbey Island's western shores. Recent high tide events and severe weather will keep the WCC cleanup crews busy over the coming months as they help control the influx of marine debris to Puget Sound shorelines.

New Rain Gardens Filter Stormwater in Port Townsend

Jefferson

Jefferson MRC recently partnered with WSU Extension and the City of Port Townsend to install two new rain gardens on Garfield Street in uptown Port Townsend just in time to collect and filter stormwater runoff in the recent storms. Rooftops, driveways, streets and other impervious surfaces do not allow water to soak into the ground. These rain gardens will improve water quality by capturing stormwater pollutants from car oil, fertilizers, dog poop and sediments. Pollutants affect the health of eelgrass, shellfish, salmon and other marine species, so this project targets high-priority drainage areas where unfiltered stormwater flows directly into the Bay. MRC volunteers were joined by five members of the Sound Experience Adventuress crew, Beach Watchers, neighbors and other community volunteers for two days of planting and mulching in early December to make this project a success. Click here for more information about rain gardens.

Snohomish MRC Releases New Video

Snohomish

The Snohomish MRC recently completed a video featuring the Port Susan Marine Stewardship Area. Videographer Faith Haney interviewed farmers, MRC staff, Stillaguamish Tribe staff and Port Susan residents who have highlighted the importance of Port Susan for both people and marine resources. The video premiered at the November 20th Focus on Farming Conference and will be shown at the upcoming MRC Conference in Port Townsend. Click here to view the video!
Member Spotlight: Andrew Shogren
Clallam MRC
Andrew Shogren, MRC Chair, knows that the skies over Sequim are sunnier than other areas of western Washington, which is why he and his family chose this location after a decade in sunny San Diego. Born and raised in the Shoreline area of north Seattle, he stayed close to home and earned a law degree at the University of Washington before moving south to California.
Continue Reading »
Upcoming Events
Northwest Straits Commission Meeting - January

Friday
January 30
10 am-3 pm

 

Click here for a complete set of meeting materials, in the order as they appear in the agenda.

 

Pacific Rim Institute, 180 Parker Rd, Coupeville, WA 98239

Thursday
February 05
6 pm-7 pm

Join the Whatcom MRC on February 5 from 6-7pm to hear stories from Doug Huddle, retired WDFW biologist, about the distribution and abundance of local salmonids, what it was like historically, and some of the common misunderstandings about the decline of certain salmon species.

Garden Level Conference Room, Civic Annex Building, Bellingham

Community Engagement in Oil Spill Preparedness & Response Workshop

Thursday
February 05
5:30 pm-7:30 pm

Residents of the North Olympic Peninsula who are concerned about oil spills along the coastline are invited to a free community workshop on oil spill response and readiness. Local, state, and federal agency staff will describe their roles as a part of "Incident Command", how they plan for and make decisions during spills, and how they strive to protect valuable natural and community assets. 

RSVP for the February 5 workshop to Heidi Lehman, Northwest Straits Foundation at   lehman@nwstraits.org, 360-733-1725

Port Angeles City Council Chambers, 321 East Fifth Street