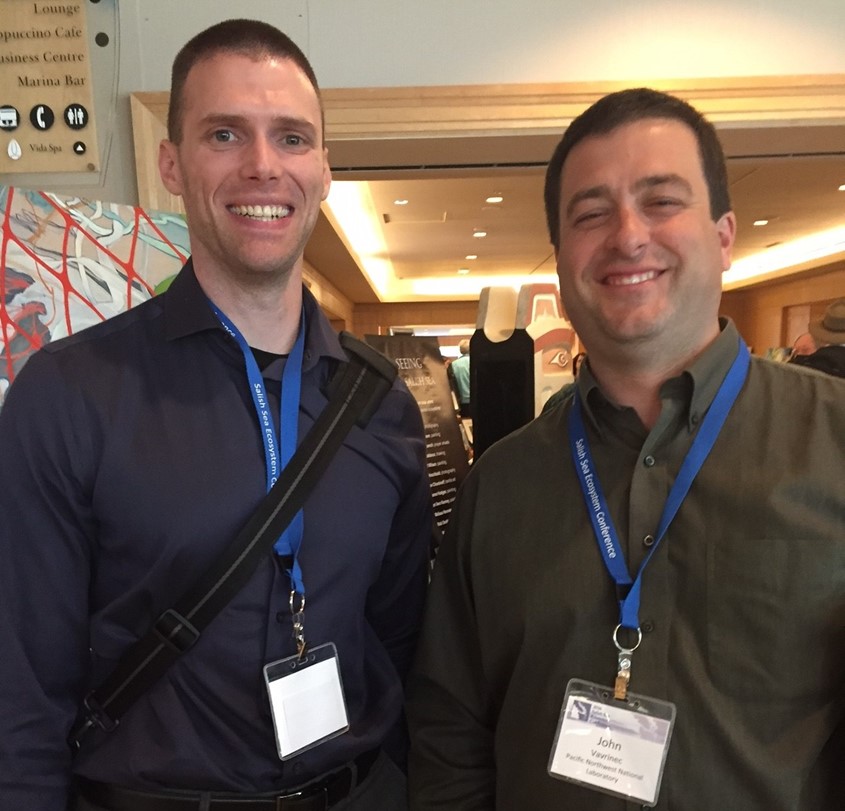 Northwest Straits at the Salish Sea Ecosystem Conference
The Salish Sea Ecosystem Conference encompasses hundreds of presenters, research posters, vendors, educational exhibits and sessions presenting the latest research on the state of the Salish Sea. The conference had several attendees from the Northwest Straits Initiative including representatives from the Commission, each MRC and the Foundation.
2015 ANNUAL REPORT
The Northwest Straits Commission has released our 2015 Annual Report! Click here to read the full document.
The Northwest Straits Commission is a regional coordinating body comprised of people who care about the marine areas where they live, and who work together to protect and restore marine resources.
The Northwest Straits Commission carries out regional conservation projects and supports the work of seven Marine Resources Committees through funding, technical support, training and regional coordination.
Find us on Facebook.     Follow us on Twitter.
More About Us and the Northwest Straits Region »
May NWSC Meeting
May 27
WebEx Conference Call
Jefferson MRC checks up on no anchor zone buoys

Jefferson MRC

Mystery Bay in Jefferson County is a popular boating location and prolific shellfish area. In 2010 the MRC led an effort to ensure safe harvest of shellfish and space for visiting boaters, creating a voluntary no anchor zone marked by six buoys. This past weekend, volunteers from the Jefferson MRC and an AmeriCorps member enjoyed a sunny day on the water checking up on the buoys in advance of the busy boating season.

Click here to learn more about Jefferson MRC's voluntary no anchor zones.

Understanding Eelgrass in Island County

Island MRC

Earlier this year, the Washington Department of Natural Resources issued their report on the status and trends of eelgrass in Puget Sound, finding an overall increase despite some areas of decline. Island County MRC recently presented their results from the past seven years of underwater and aerial surveys of eelgrass beds.

Farewell to Joan Drinkwin!

Northwest Straits Foundation

As a result of her work, derelict gear removal operations increased substantially, as did efforts to prevent the loss of gear and research related to the impacts of derelict gear.

Please join us in thanking Joan and wishing her great success with the new opportunities ahead!
Member Spotlight: Anne Murphy
Jefferson MRC
A true "watershed' moment started Anne Murphy off on her journey that would eventually land her on Puget Sound at the head of the Port Townsend Marine Science Center. Having taken a drink from the local creek, her dad explained how watersheds work…and that the horses upstream may not make for very good drinking water.
Continue Reading »
Upcoming Events
Tuesday
May 03
1:00 PM-4:00 PM

Presenters:

Joe Raymond, US Coast Guard

David Byers, Department of Ecology

Jennifer Garcelon, Clallam County

Jeff Ward, Clallam Marine Resources Committee

*The workshop will include a round table discussion

Carver Room, Port Angeles Library, 2210 S. Peabody St. Port Angeles, WA

Thursday
May 05
6:00 PM-7:00 PM

Join the Whatcom MRC and Whatcom Watersheds Information Network (WWIN) for a FREE public speaker series event with Dr. Paul Dinnel. Dr. Paul Dinnel will share insights into Oympia oyster restoration techniques and recent success stories from projects in Skagit County.

 

Garden Level Conference Room at the Civic Center Annex: 322 N. Commercial St., Bellingham, WA

Saturday
May 07
9:45 AM

Jefferson MRC is hosting this great event!

Camille Speck and Doug Rogers, shellfish biologists with the WA Dept of Fish and Wildlife, will teach you all about safe and sustainable clam harvesting. Co-sponsored by WDFW and WSU Extension Beach Naturalists.

($10 suggested donation per family)

RSVP REQUIRED. Register early

Oak Bay County Park, Port Hadlock