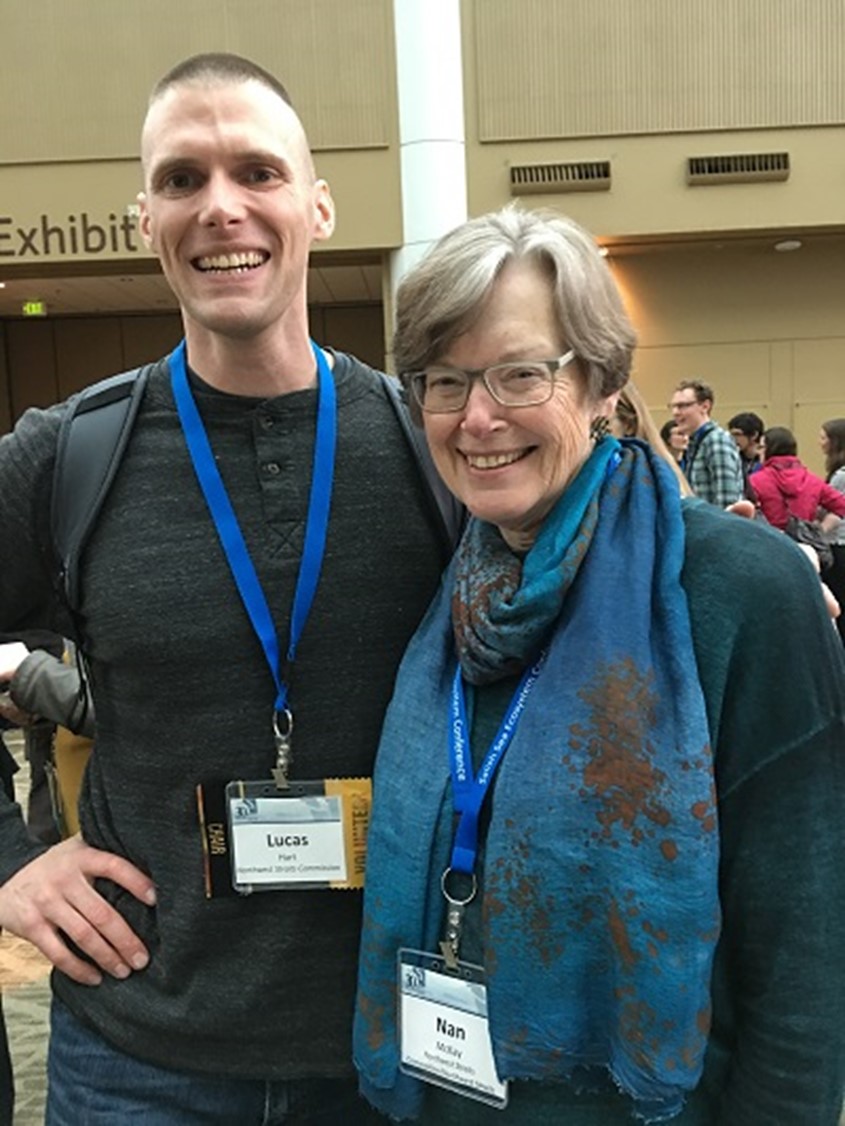 Commission announces new director
The Northwest Straits Commission is pleased to announce that Dr. Lucas Hart was selected as our new Director. Dr. Hart has been with the Commission for the past three years serving as the Marine Program Manager. He brings a wealth of skills and experience to the role of Director. He is a skilled marine scientist and outstanding communicator, and has served in volunteer positions with Puget Sound conservation organizations. Commission Chair Nan McKay said, "Members of the Commission look forward to Lucas' leadership and to working with him to advance the goals of the Northwest Straits Initiative."
Please join us in welcoming Lucas as the new Director!
The Northwest Straits Commission is a regional coordinating body comprised of people who care about the marine areas where they live, and who work together to protect and restore marine resources.
The Northwest Straits Commission carries out regional conservation projects and supports the work of seven Marine Resources Committees through funding, technical support, training and regional coordination.
Find us on Facebook.     Follow us on Twitter.
More About Us and the Northwest Straits Region »
Commission elects new leadership

Northest Straits Commission

This month Commission elections brought two members into new leadership roles. Welcome to Paul Clampitt of the Snohomish MRC, elected to serve as the chair of the Commission, and Alan Clark of the Clallam MRC, elected to serve as vice chair.

Many thanks to Nan McKay, our former chair, and Jamey Selleck, our former vice-chair for all your hard work!

Students become scientists at Fidalgo Bay

Skagit MRC

On April 18, Skagit MRC held their first "Kids on the Beach" program, engaging 50 local students in hands-on research on the beach. Cloudy skies and gusty spring weather didn't stop the Conway Middle School students from exploring the creatures hiding in the intertidal zone at Fidalgo Bay. Jason Morgan with the Northwest Straits Foundation led kids through several beach seining activities. Muddy shoes, wet hands and smiling faces lined the beach as students measured and identified several animals caught in the seining net. Meanwhile, on shore, a separate group of students sifted through sediment looking for tiny, treasured forage fish eggs. Specimens were brought inside for further identification under microscopes. "I didn't realize there were eggs in sand!" a student exclaimed while poking through the tiny bits of grit. Twenty five volunteers helped during the event. A science symposium will be held for the students to present their research on May 11, 2018 at Fidalgo Bay Resort. Check Skagit MRC's website for more information on this and other MRC projects.


North Sound Stewards Program trains citizen scientists

Whatcom

Whatcom MRC and RE Sources are kicking off their second season of training participants to become citizen scientists and play an important role in understanding and protecting the Salish Sea. These North Sound Stewards have a variety of learning and monitoring opportunities, including intertidal surveys, forage fish surveys, plastics monitoring and sea star wasting syndrome surveys.

"People across generations and experiences find it especially rewarding to get outside and quantify the plants and animals that they would see on a casual beach walk," said Chris Brown, Whatcom MRC member and citizen scientist. "You don't have to come to a beach survey knowing a bunch about mussels, tides or data collection, but you'll leave having learned something of great value."

The program requires 50 hours of trainings and surveys over a one-year period. Participation can reflect individual skills, from the actual survey work to photography, data entry or event coordination. Volunteers of all ages and abilities are welcome; children under 18 must be accompanied by an adult.

"The information we collect provides a baseline of data that informs policy, restoration efforts, cleanups, and more," said Eleanor Hines, North Sound Baykeeper and Lead Scientist at RE Sources. "Citizen scientists are integral to support important work that underfunded agencies cannot do themselves."

Upcoming intertidal survey trainings will be held in Blaine (May 5) and Anacortes (May 6), and participation in one of the two trainings is required to be part of the program. Learn more about North Sound Stewards and other projects of the Whatcom MRC, or click here to register for a training.
Member Spotlight: Sarah Brown
Snohomish MRC
Sarah Brown is a biologist with a lifelong addiction to all things marine. She began her career at the molecular level, performing gene-related research on melanoma and pyogenic granuloma. She transitioned to teaching, connecting students with the wonders of the natural world and sharing her passion for science.
Continue Reading »
Upcoming Events
May Northwest Straits Commission Meeting

Friday
May 25
10:00 AM-12:00 PM

Open to the public.

To join the WebEx meeting, click here. Enter your name and email address and click "Join."

For audio conference only, dial: 1-240-454-0887 access code: 806 466 150

WebEx - Conference call

June Northwest Straits Commission Meeting

Friday
June 29
10:00 AM-3:00 PM

Open to the public.

Island County

Saturday
June 30


Save the date!

Jefferson County