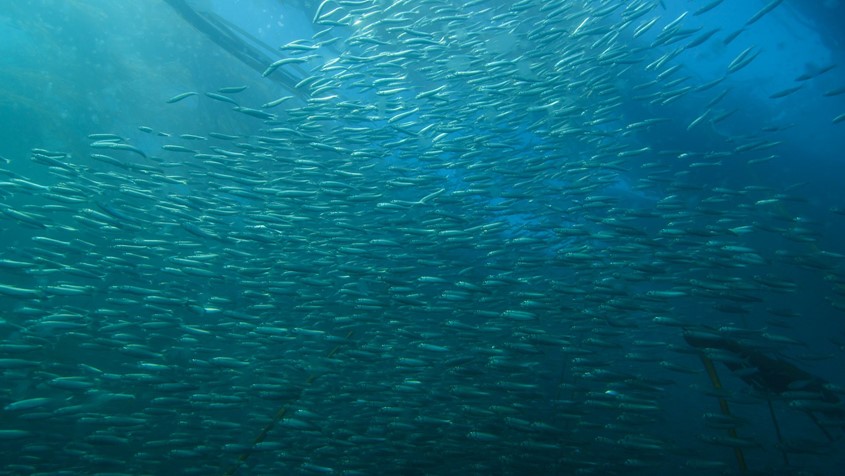 Build it and they will come: a restoration success story
Beach restoration has been among the Northwest Straits Initiatives' priorities since being founded in 1998. Removing creosote bulkheads, replanting native vegetation and in some cases, changing the slope of the beach to match natural characteristics, all play important roles in improving nearshore salmon and forage fish habitat.

Cornet Bay at Deception Pass State Park contains one such restoration. Volunteers have continuously monitored for forage fish eggs on the beach since 2009, three years before completion of the first phase of restoration in 2012. In August of 2017 they struck "gold", finding surf smelt eggs in a new location within Cornet Bay and inside the restoration site.

The finding suggests that forage fish may be using the restored habitat, a primary goal of the project from the beginning, a boost for the morale of our hardworking volunteers, and a new place to call home for an important Puget Sound species.

To learn more about Island MRC and the work done at Cornet Bay, click here.
The Northwest Straits Commission is a regional coordinating body comprised of people who care about the marine areas where they live, and who work together to protect and restore marine resources.
The Northwest Straits Commission carries out regional conservation projects and supports the work of seven Marine Resources Committees through funding, technical support, training and regional coordination.
Find us on Facebook.     Follow us on Twitter.
More About Us and the Northwest Straits Region »
December 2017 NWSC meeting
December 08
WebEx
Jefferson MRC at the Wooden Boat Festival

Jefferson

A day of rain was no deterrent for participants at the 41st Port Townsend Wooden Boat Festival. A steady flow of boat enthusiasts stopped by the Jefferson MRC booth to ask questions, get information on the MRC, and chat about local and regional marine issues. A popular attraction this year was a youth marine education scavenger hunt "Passport to Adventure", coordinated by a group of marine resource groups including the Jefferson MRC. Prizes were given out at the MRC booth to industrious and smiling kids who completed their "hunt".

The Wooden Boat Festival is also a great time for the MRC to measure the success of the buoy-delineated voluntary no anchor zone that protects eelgrass beds from dragging anchors. Jefferson MRC has maintained the line of buoys in Port Townsend Bay along the edge of the eelgrass bed since 2004. With more than one hundred vessels at anchor in the bay last weekend, all were anchored outside of the eelgrass zone. Thanks to boaters for protecting the eelgrass!

To learn more about the work of the Jefferson MRC, click here.

Whatcom Water Week

Whatcom

September was busy for Whatcom MRC as they co-hosted the popular Whatcom Water Week, a week-long event that brought together businesses, non-profits and community groups to share information on marine and fresh water resources. Whatcom MRC participated in a film screening of Streams of Thought and the Baker to Bay Symposium focused on informing ecosystem recovery actions in the county. They also hosted Locust Beach clean-up, a beach naturalist walk at Post Point and a booth at the 2nd annual Bellingham SeaFeast.

Learn more about the Whatcom MRC's education and outreach work here.

2017 kelp survey season comes to a close

Northwest Straits Initiative

It's the end of the growing season for bull kelp in Puget Sound, and MRC and project volunteers have taken their last kayak trips out to survey kelp beds. In this third year of surveys, volunteers in seven counties surveyed a total of 26 local kelp beds. As we enter the off season, data will be compiled and shared through our SoundIQ platform, and project leads will ensure data is available to decision makers and others with an interest in the regional kelp population.

A heartfelt thanks to the dedicated citizen scientists who carefully prepared for the season and spent many hours on the water to conduct surveys everywhere from Clallam Bay to Lummi Island, and many points in between. We hope to see you again next year!

To learn more about the Northwest Straits kelp program, check out a short video here.
Member Spotlight: Patti Gobin
San Juan MRC
Patti Gobin has over 25 years of Community Development experience with the Tulalip Tribes. Presently, Ms. Gobin is with the Natural Resource Treaty Rights office working with state, local and federal agencies regarding those issues that impact the life ways of the Tulalip Tribes. In addition to her years of experience, Ms. Gobin is a member of the Tulalip Tribes and is well versed in the culture and history of her people. Her personal goal is to invest in the future of the Coast Salish community, helping to affect a sustainable future for the next generations to come.
Continue Reading »
Upcoming Events
Friday-Saturday
November 03-November 04


*This event is invite only.*

Contact Nicole Jordan at jordan@nwstraits.org with questions.

Four Points by Sheraton, Bellingham, WA

December 2017 NWSC meeting

Friday
December 08
10am-12pm

WebEx

January 2018 NWSC meeting

Friday
January 26
10am-3pm

Snohomish County