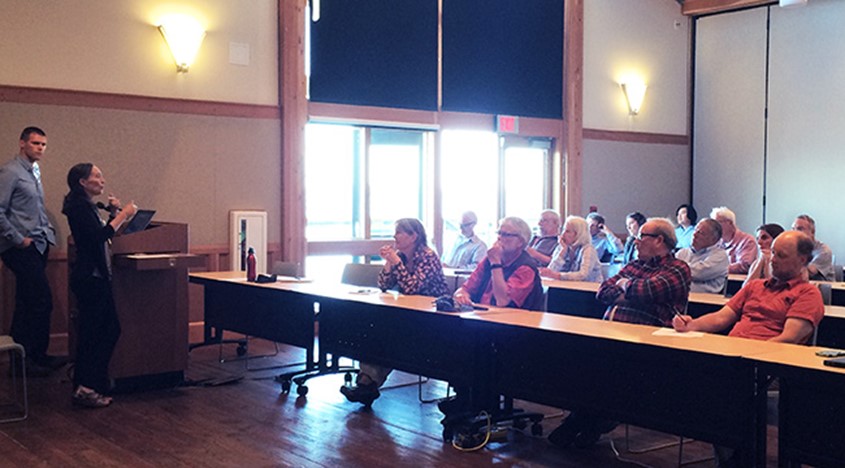 Ocean Acidification Workshop
The Commission kicked off its third year of ocean acidification outreach forums last month at the Port Townsend Maritime Center. Our goal is to communicate local-level ocean acidification remediation and adaptation strategies to the people who can put the information to use.
We appreciate the many participants from the City of Port Townsend, Jefferson County and other jurisdictions in the area who joined us for this event.
The Northwest Straits Commission is a regional coordinating body comprised of people who care about the marine areas where they live, and who work together to protect and restore marine resources.
The Northwest Straits Commission carries out regional conservation projects and supports the work of seven Marine Resources Committees through funding, technical support, training and regional coordination.
Find us on Facebook.     Follow us on Twitter.
More About Us and the Northwest Straits Region »
Volunteers check forage fish 'index' sites

Six MRCs

This summer a partnership has formed between WDFW and the MRCs for citizen scientists to support WDFW's forage fish index sites in Puget Sound-wide survey efforts.

With 2,500 miles of shoreline, agency staff at WDFW cannot reach all sites to conduct repeat surveys, so six MRC's have adopted these "index" sites identified by WDFW. Trained volunteers will collect samples monthly to verify WDFW findings and assist in confirming data trends.

Olympia oyster success in Skagit County!

Skagit MRC

Skagit MRC volunteers recently inspected Olympia oysters in Fidalgo Bay and were happy to see the seed they planted in years past are not only surviving, but the population is expanding northward from the original restoration site!

July goodbyes!

Island and Whatcom MRCs

This month we say goodbye to Leal Dickson who spent over seven years on the Island MRC. Leal was an incredible asset to the MRC and to the regional work of the Northwest Straits.

We also say goodbye and best wishes to Rachel Benbrook, who recently stepped down from the Whatcom MRC. Rachel joined the Skagit MRC in early 2011, where her local knowledge of the estuaries and stewardship ethic were a great fit. She also served as the MRC's representative to the Northwest Straits Commission.

Member Spotlight: Linda Rhodes
Island MRC
Linda Rhodes, PhD, of Greenbank is a research microbiologist at the National Oceanographic & Atmospheric Administration's (NOAA) Northwest Fisheries Science Center in Seattle. She has conducted research in salmon infectious disease and immunology and in aquatic toxicology around Puget Sound since the mid-1970s.
Continue Reading »
Upcoming Events
Saturday
July 23
12:30 PM-3:30 PM

Do you think you might like to learn more about volunteering as a Beach Naturalist at Washington Park? This is an opportunity for all volunteer levels You don't have to be an expert, we have so many resources and materials for you to learn together! Sign up with a spouse or a friend to double your fun and impact! Email srussell@padillabay.gov to sign up!

Washington Park, Skagit County

Thursday
July 28
5:00 PM-7:00 PM

Max Gordon from WA Dept of Ecology spoke about updates to Ecology's Geographic Response Plans (GRPs) at the June MRC meeting.  GRP's are part of Washington's effort to more effectively prepare in the event of an oil spill.

Jefferson County Library in Port Hadlock

Friday
July 29
10:00 AM-12:00 PM

The July meeting will be over WebEx. This meeting is open to the public. To receive meeting materials directly, email jordan@nwstraits.org.

WebEx Conference Call