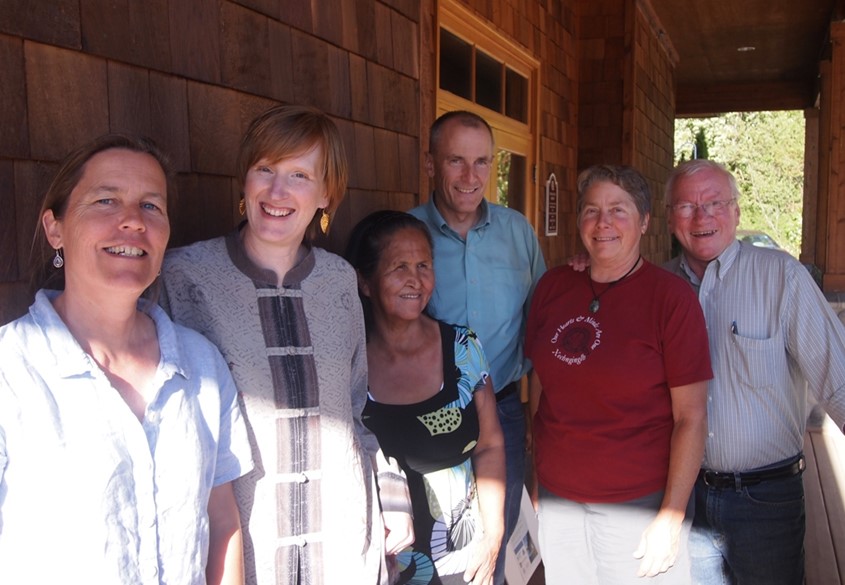 Community Forum on Ocean Health in Anacortes
Twenty trillion pounds. That's the amount of carbon dioxide being added to the ocean each year. To put it in perspective, imagine if every single person on the planet heaved a bowling ball of CO2 into the ocean EVERY DAY.

That is just one mind-boggling fact about ocean acidification that Dr. Brooke Love, researcher at Shannon Point Marine Center, presented on June 11 at the Community Forum on Ocean Health sponsored by the Skagit Marine Resources Committee and Northwest Straits Commission.
Other fascinating and thought-provoking talks included a glimpse into the commercial shellfish farmer's world from Bill Dewey and the Samish Indian Nation's way of life from Christine Woodward. Ginny Broadhurst wrapped up the evening with a presentation on the efforts of the Northwest Straits Commission to combat ocean acidification and simple steps that every person can take to make a difference. 
The Northwest Straits Commission is a regional coordinating body comprised of people who care about the marine areas where they live, and who work together to protect and restore marine resources.
The Northwest Straits Commission carries out regional conservation projects and supports the work of seven Marine Resources Committees through funding, technical support, training and regional coordination.
Find us on Facebook.     Follow us on Twitter.
More About Us and the Northwest Straits Region »
Northwest Straits Commission Meeting - July
July 31
Snohomish County
Project Volunteers Take to the Beach

Jefferson

There's been a flurry of MRC activity on the beach lately. A total of 69 volunteers in five counties learned how to survey forage fish eggs in recent workshops offered by the Northwest Straits Commission in partnership with the Washington Department of Fish and Wildlife. To read more about the Commission's forage fish program, click here.

In Jefferson County, volunteers are also monitoring beach characteristics in preparation for the MRC's new restoration project at Fort Townsend State Park. The Northwest Straits Foundation co-sponsored two classes tailored to this site, where forage fish spawning will be monitored in partnership with the Point No Point Treaty Council, and volunteers will document changes following the removal of a bulkhead.

New Commission Leadership

We send buckets of thanks to Christine Woodward who just completed two years as Chair of the Northwest Straits Commission. Christine has a gentle and welcoming style of leadership which always made meetings comfortable and productive. Christine reminded us regularly of how important our work is and how grateful she is to be part of the organization.

As chair, she also represented the Commission on the Washington Marine Resources Advisory Council, established to address ocean acidification issues in Washington state. Thank you Christine for your service, your great work, and your wonderful and collaborative spirit.

A great big thank you to our new chair Nan McKay and vice chair Jerry Masters! Read more about our Commissioners here.

Citizen Science on the Rocks at Bellingham's Boulevard Park

Whatcom

While training volunteers at a local beach, Whatcom MRC member Doug Stark was intrigued by the changes he saw after a rip-rap shoreline was improved with a soft shore beach at Bellingham's Marine Park. "I swear I saw greater diversity and enhanced eelgrass habitat after the soft shore project," Stark remarked, "but there was no data to back that up." So when the Whatcom MRC was presented with Bellingham Parks Department plans to soften up the shoreline at Boulevard Park, another popular waterfront park in Bellingham, Doug and MRC members were motivated to collect baseline data to document changes in eelgrass and marine species before and after the project. 
 
"It was a great excuse for us grown-ups to play on the beach," Stark added. Besides gathering data, the MRC wanted to capitalize on the high visibility at Boulevard park. This year the group borrowed an "interpretation station" put together by Friends of Fidalgo Bay to help showcase citizen science and cultivate awareness of shoreline armoring alternatives to the scores of people who use the popular park. 
 
The Boulevard Park studies have continued with annual follow-up surveys at two sites, including a control site and enhancement site. "All together it's been a great partnership and huge undertaking in volunteer hours," Stark acknowledged. For their upcoming work plan, the Whatcom MRC will take on kelp surveying by kayak and other novel ways to get people on the beach. Read more about the work of the Whatcom MRC at www.mrc.whatcomcounty.org.

Member Spotlight: Lincoln Loehr
Snohomish MRC
A conversation with Lincoln Loehr of the Snohomish MRC is like a personalized history lesson on Puget Sound wastewater treatment – a fascinating glimpse at how we ended up where we are today. Though he was raised in the Los Angeles area, Lincoln knew from an early age that he wanted to study oceanography, and trained at the University of Washington.
Continue Reading »
Upcoming Events
Sunday
July 05
11 am

Join the Clallam MRC on July 5 to help clean up fireworks and other Fourth of July debris on the beach at Ediz Hook in Port Angeles. Meet at 11 am at the picnic tables near the Coast Guard parking lot (far end of the hook). All supplies for the clean-up will be provided. Come join the fun and make a difference!  

For more information contact Haley Gray (360)-808-7180 or visit http://www.clallamcountymrc.org/.

Port Angeles, WA

Northwest Straits Commission Meeting - July

Friday
July 31
10 am-3 pm

Snohomish County

Sunday-Thursday
August 16-August 20


The American Fisheries Society cordially invites you to attend the 145th Annual Meeting to be convened in Portland from August 16 to 20, 2015. Click here for information.

Portland, OR