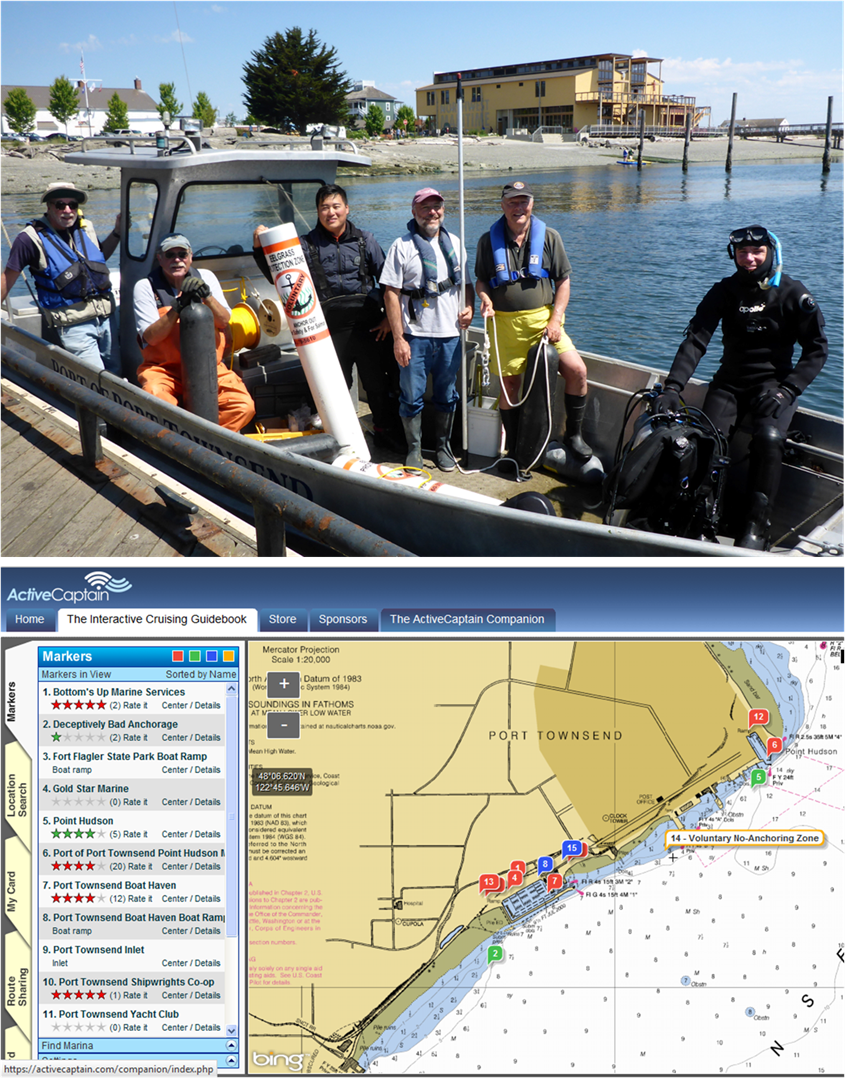 Eelgrass Protection Zone Buoys Reinstalled
Port Townsend is a popular summer boating destination, and its waterfront is also prime eelgrass habitat. The Jefferson MRC maintains a voluntary no-anchor zone with buoys that mark the eelgrass bed boundaries, encouraging boaters to anchor a little further off shore. MRC members Dale Moses, Troy McKelvey, Andy Palmer, Steve Tucker and Sarah Fisken were joined by divers Nam Siu and David Campbell from Marine Surveys & Assessments (MSA) to replace old line and hardware while installing the buoys.
This season the MRC is using a new outreach and education tool called ActiveCaptain. The locations of eelgrass buoys have been uploaded to this interactive cruising guidebook and boaters with the app installed on their mobile devices or navigation tools will be alerted when nearing the protection zone.
We're hiring!
The Northwest Straits Commission is hiring a Program Coordinator. Applications will be reviewed starting August 3. View the job announcement here and please share widely!
The Northwest Straits Commission is a regional coordinating body comprised of people who care about the marine areas where they live, and who work together to protect and restore marine resources.
The Northwest Straits Commission carries out regional conservation projects and supports the work of seven Marine Resources Committees through funding, technical support, training and regional coordination.
Find us on Facebook.     Follow us on Twitter.
More About Us and the Northwest Straits Region »
Northwest Straits Commission Meeting - August
August 28
WebEx Conference Call
Keep Your Crab Pot, Catch More Crab!

Snohomish

Are you a recreational crabber? Do you like taking photos? Enter your photos in the #CatchMoreCrabSnoCo Instagram contest launched by the Snohomish MRC! It's simple: upload your photos to Instagram and add #CatchMoreCrabSnoCo to your caption. Drawings will be held every two weeks throughout the summer season for great crabbing-related prizes.

In Snohomish County marine areas, recreational crabbing opened on July 2. At the busy 10th Street boat launch in Everett, MRC staff and members spoke with crabbers and distributed information to kick off the photo contest. View photo entries and find useful tips for keeping your crab pot on the Snohomish MRC website.

In Puget Sound, an estimated 12,000 crab pots are lost each year. A single lost crab pot without escape cord can trap and kill up to 30 harvestable crabs until deterioration. The goal of this project is to reduce the number of recreational crab pots lost in Snohomish County marine waters by promoting best crabbing practices.


Post-July 4th Beach Clean-up at Ediz Hook

Clallam

Clallam MRC intern Haley Gray started off the summer with a bang! She and MRC members Cathy Lear, Helle Anderson, Bob Vreeland, and others pulled a float in the Port Angeles Fourth of July Parade to promote an MRC-sponsored Ediz Hook beach clean-up event on July 5th. Their float featured a "merperson" sculpture made entirely of marine debris picked up by local artist, Sarah Tucker. The following day, 35 volunteers - the youngest only five years old - walked two miles of shoreline on the bay side of the Hook and removed 20 garbage bags worth of trash and debris. Volunteers reported that the most common items encountered were sparkler sticks and other firework remnants. Learn more about the work of the Clallam MRC on their website.


Island MRC Appreciates Pigeon Guillemots

Island

The Island MRC, in partnership with Whidbey Audubon Society and Ott & Murphy Winery co-sponsored the second annual Pigeon Guillemot Appreciation Days on Whidbey Island, June 26-27. Appreciation Day festivities began with happy hour at Ott & Murphy Winery in Langley where participants cut out red felt guillemot feet and donned guillemot "tattoos" in honor of their favorite seabird.

The following day, guests enjoyed morning field trips to view two active guillemot colonies in person. Approximately 1,000 of the black-and-white seabirds with fire-engine-red feet nest in the bluffs around Whidbey. A corp of 60 volunteers monitor the 25 guillemot colonies along with MRC-supported intern researcher, Emily Bishop. Learn more about what makes this bird special on the Island MRC website.
Member Spotlight: Tony Petrillo
Jefferson MRC
A solo consultant in the ocean engineering business, he works on plenty of ocean issues, but this was a learning experience in community participation….a way to, as he puts it, "develop connective tissue in the community".
Continue Reading »
Upcoming Events
Thursday
August 13
11:00 am

The Northwest Straits Initiative and special guests invite you to celebrate the culmination of removal of shallow water derelict fishing nets from Puget Sound. The event is free and open to all.

RSVP to Heidi Lehman at 360-733-1725 by August 7.

Port of Everett Boxcar Park

Sunday-Thursday
August 16-August 20


The American Fisheries Society cordially invites you to attend the 145th Annual Meeting to be convened in Portland from August 16 to 20, 2015. Click here for information.

Portland, OR

Northwest Straits Commission Meeting - August

Friday
August 28
10 am-12 pm

WebEx Conference Call