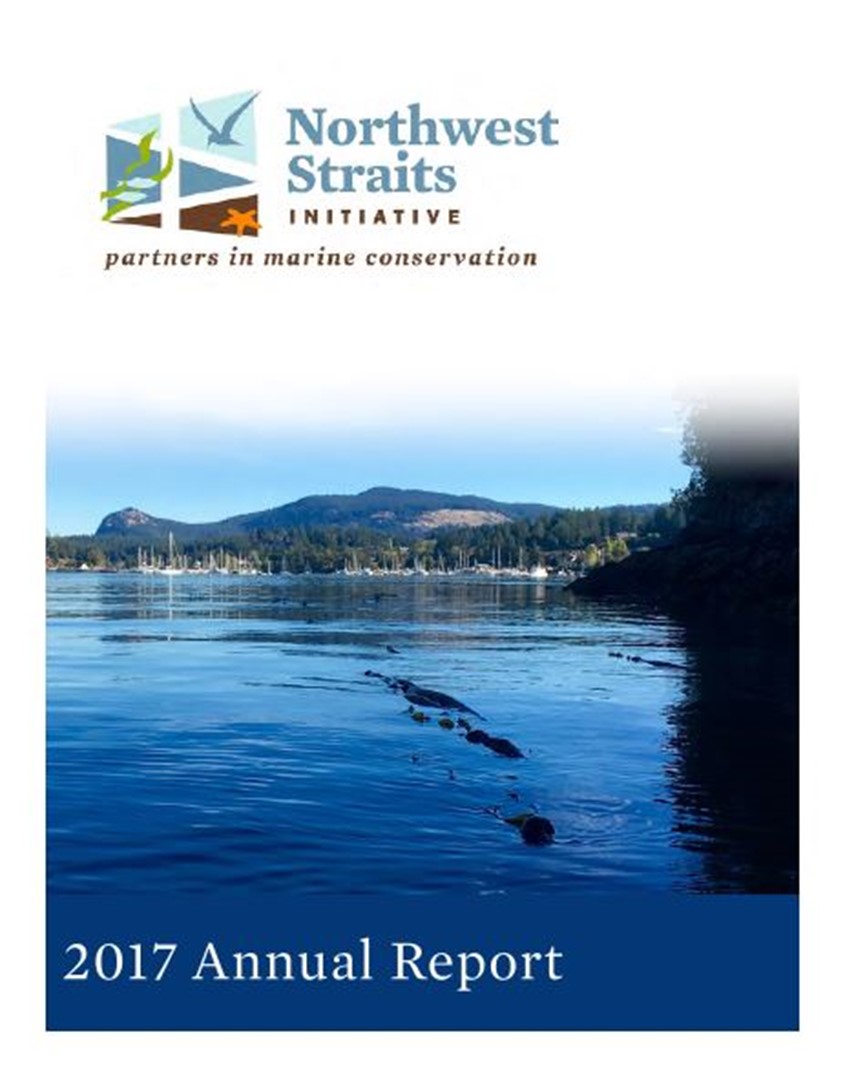 2017 Annual Report
Northwest Straits is guided by our mission to be an effective citizen-based organization, working in partnership to accomplish meaningful projects and achieve measurable results that protect and restore the marine environment.

The heart of our work is in the local Marine Resources Committees, and we're pleased to share more about what they accomplished in 2017, along with highlights of our regional projects, in our 2017 annual report.

This report is a snapshot of the year, a way to summarize and reflect on the recent past, as we enter our 20th year of empowering citizens to be part of a local solution to concerns about marine issues in the Salish Sea.

Click here to read the full report.
The Northwest Straits Commission is a regional coordinating body comprised of people who care about the marine areas where they live, and who work together to protect and restore marine resources.
The Northwest Straits Commission carries out regional conservation projects and supports the work of seven Marine Resources Committees through funding, technical support, training and regional coordination.
Find us on Facebook.     Follow us on Twitter.
More About Us and the Northwest Straits Region »
Net Ecosystem Improvement (NEI)

Northwest Straits Initiative

Two Net Ecosystem Improvement (NEI) WebEx presentations were held on January  24 and February 7. Dr. Ron Thom and Dr. Tom Mumford provided their the most recent version of the presentation (click here).

Puget Sound Kelp Recovery Plan

Northest Straits Initiative

In October 2017, The Northwest Straits Initiative embarked on an ambitious new project to draft a Puget Sound Kelp Recovery Plan. Kelp has gained notoriety as an important component of critical habitat for endangered and threatened rockfish—especially as observations indicate declines of some kelp species, such as bull kelp, in many areas of Puget Sound. With funding support from NOAA, the Northwest Straits Initiative has formed an advisory team composed of representatives of federal and state agencies, graduate students and other kelp experts.

The team has begun drafting a plan that will outline what we know about kelp and its ecosystem contributions in Puget Sound, stressors that impact kelp and actions we need to take to better understand and protect the 18 species found east of the Victoria Sill. With this committed group of individuals, the plan will be ready to implement by October 2019 and we will be one step closer to protecting the treasures of Puget Sound.

Ryan McLaughlin, Whatcom MRC

Whatcom

Ryan is one of the newest members to Whatcom MRC and has hit the ground running. He moved to the Pacific Northwest in 2010 working as a field scientist and scientific diver for the University of Washington and a private environmental consulting company. Through working with inspiring individuals, he fell in love with the biodiversity of Puget Sound. Ryan is currently a Ph.D. candidate in Bioinformatics at the University of British Columbia and is excited to explore the potential of improving Whatcom Counties' marine health through the habitat protection and water quality. When asked what his hope for the Northwest Straits Initiative is, he responded, "I hope that the Northwest Straits can continue to provide support to researchers and community members who want to play an active role in conservation, restoration, and outreach." Thank you, Ryan!
Member Spotlight: Lois Farrington
Island MRC
Lois Farrington participates in several projects, including Sound Waters University, Pigeon Guillemot Survey, European Green Crab Survey and the Forage Fish Survey. She is a retired clinical microbiologist with a BA in biology from Whitman College and a masters degree from Seattle University. Her career in microbiology included experience in molecular biology, virology, bacteriology, mycology, mycobacteriology, and parasitology, as well as laboratory management. In 1988 she upgraded laboratory methods and trained staff at Memorial Hospital in Sialkot, Pakistan. It is a pleasure in retirement to pursue her interests of hiking, fine art photography, traveling, and gardening.
Continue Reading »
Upcoming Events
Saturday
April 21
9:00 AM-12:30 PM

Island MRC is hosting a forum on aging shoreline infrastructure on Whidbey Island which includes solutions for aging bulkheads, tidegates and other shoreline structures.

Pacific Rim Institute, 180 Parker Road, Coupeville, WA

Sunday
April 22
7:00 PM-9:00 PM

Join Snohomish MRC for this special series on ocean literacy featuring film screenings and presentations.

University of Washington Bothell

Wednesday
April 25
6:30 PM-8:30 PM

Join Snohomish MRC for this special series including presentations and film screenings.

Everett Community College