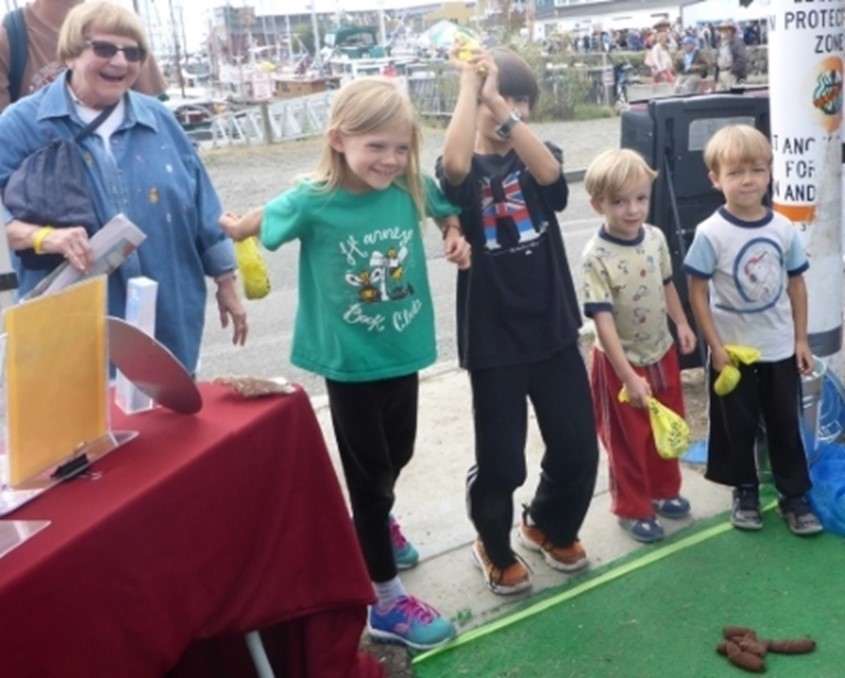 40th Annual Wooden Boat Festival
In the midst of the festive atmosphere at the 40th Port Townsend Wooden Boat Festival this month, Jefferson MRC brought out the fun and games with an educational twist. Water quality and proper disposal of pet waste was the emphasis of their outreach booth, so hundreds of eventgoers played their "Toss the Poop" game to demonstrate the importance of getting pet waste in the trash. Whether they were tossing the "poop" beanbags, or cheering on their family and friends, everyone was part of the conversation about why it is important to put dog poop in the trash. An estimated 8,500 dogs in Jefferson County generate about 2.3 million pounds of dog poop each year that can wash into streams, ditches, or Puget Sound if not picked up.


Learn more about the work of the Jefferson MRC at www.jeffersonmrc.org.
The Northwest Straits Commission is a regional coordinating body comprised of people who care about the marine areas where they live, and who work together to protect and restore marine resources.
The Northwest Straits Commission carries out regional conservation projects and supports the work of seven Marine Resources Committees through funding, technical support, training and regional coordination.
Find us on Facebook.     Follow us on Twitter.
More About Us and the Northwest Straits Region »
December NWSC Meeting
December 09
WebEx Conference Call
Celebrating Fidalgo Bay

Skagit MRC

Skagit MRC held its 13th annual Fidalgo Bay Day in late August at the Samish Indian Nation's beautiful Fidalgo Bay Resort in Anacortes. More than 20 organizations shared informational displays and fun activities that celebrate and promote stewardship of local marine life.


Pete Haase led 50 dedicated volunteers to make Fidalgo Bay Day a success, drawing over 350 visitors to the beach, who left feeling inspired to share what they've learned with others and to help protect the waters of Fidalgo Bay and the larger Puget Sound.

For more information about past Fidalgo Bay Day events click here.

#CatchMoreCrab

Northwest Straits Commission

Many thanks to our social media project assistant Courtney Baxter, for getting out to the boat launches and on social media to spread the word and capture stories and photos from local crabbers who shared their photos with the hashtag #CatchMoreCrab. With the close of summer crabbing season, Courtney's position with us ended. We appreciate Courtney's enthusiasm and ability to hit the ground running on this project, and her knowledge of a broad range of social media platforms led us to explore strategies to help us reach new audiences.

Member spotlight - Traci Sanderson

Snohomish MRC

Traci Sanderson joined the Snohomish MRC in 2015, drawn by the desire to volunteer and use her training to do critical work in her "second hometown". Originally from Miami, Florida, she's spent most of her life in Washington sharing her love of the ocean as a volunteer and scientist.

Traci works with many shoreline homeowners building and expanding on citizen science efforts. "Given some training on specific things to look for and track, dedicated homeowners can be wonderful citizen scientists," Traci says. "If everyone was a good steward of their property then land and water everywhere would be much healthier." Thank you, Traci, for inspiring others to be great stewards for Puget Sound!
Member Spotlight: Phil Green
San Juan MRC
Phil Green joined the San Juan MRC in August, 2013 though he has been attending MRC meetings regularly for many years. Born and raised in Massachusetts, Phil made his way to Washington State in 1973 for a job with the National Park Service.
Continue Reading »
Upcoming Events
Thursday
November 03


This is a FREE event.

Speaker: Rebecca Rettmer

More information to follow.

Bellingham, WA

2016 MRC Conference

Friday-Saturday
November 04-November 05


Jefferson County

December NWSC Meeting

Friday
December 09
10:00 AM-12:00 PM

WebEx Conference Call