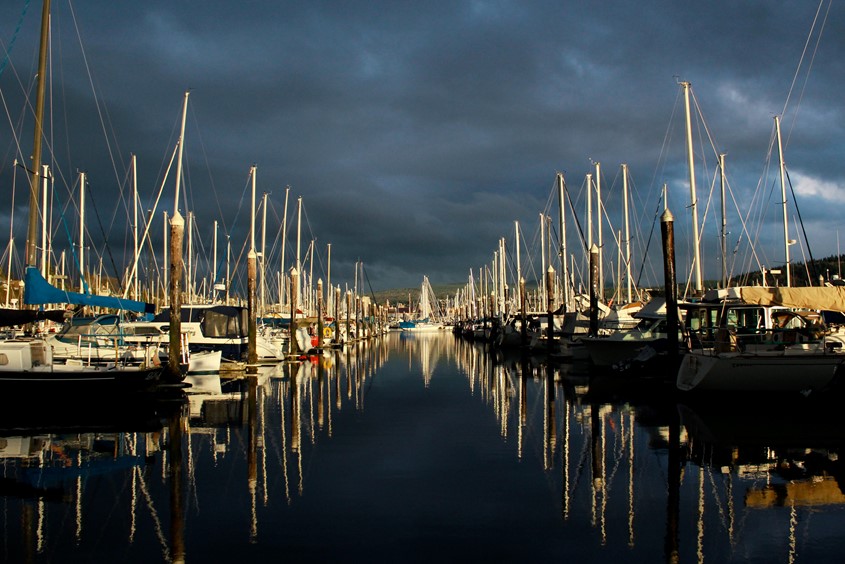 State of the Bay Symposium Brings Together Diverse Group
On January 22, the Whatcom MRC and Whatcom Watersheds Information Network co-hosted the Bellingham Bay State of the Bay Symposium. This all-day event brought together researchers, managers, tribes, elected officials and interested citizens to understand the physical, chemical, and biological status of Bellingham Bay. More than 200 people participated in the event. Speakers, posters, and videos covered a wide range of topics including the latest research results, new research needs, and methods for connecting science with decision making. Opportunities to enhance communication and coordination with resource managers and were also explored.
The Northwest Straits Commission is a regional coordinating body comprised of people who care about the marine areas where they live, and who work together to protect and restore marine resources.
The Northwest Straits Commission carries out regional conservation projects and supports the work of seven Marine Resources Committees through funding, technical support, training and regional coordination.
More About Us and the Northwest Straits Region »
Northwest Straits Initiative Annual Retreat
March 12-March 13
Padilla Bay Reserve
Coastal Volunteer of the Year Goes to...

Island MRC

Congratulations to long-time Island MRC member, Ken Urstad, recipient of the Jan Holmes Coastal Volunteer of the Year Award. Co-sponsored by the Island MRC and WSU Island County Extension, the award is presented annually to one individual engaged in service, science or outreach relating to the marine environment and whose work contributes to understanding or protection of Island County's coastal resources. Ken contributed over 3,000 volunteer hours to WSU Beach Watchers and was a member of the Island County MRC for nine years. In addition to volunteering his time, Urstad lent the use of his boat for eelgrass surveys, maintained seining equipment and was one of the founding members of Jan Holmes' eelgrass team, amongst numerous other activities.

Marine Debris Program in the News

The Northwest Straits Commission's Marine Debris Program was recently highlighted in a Skagit Valley Herald article. Program Assistant, Paul Argites, detailed the work and accomplishments of WCC's Veteran Conservation Corps crews, including the removal of nearly 15 tons of material from Puget Sound's shorelines.

Click here to view a story map about the Marine Debris Program.

Clallam MRC Seeking Motivated Interns

Clallam MRC

The Clallam MRC is seeking a few great interns to help with marine debris removal, Olympia oyster restoration, oil spill preparedness projects, as well as public outreach on marine resources issues. See Clallam MRC web site for more information and how to apply.

Last year's intern, Emily Larson, was recently named Feiro Marine Life Center's 2015 Science Student of the Year. Among her many activities, Emily  planned community beach cleanup events and educated the public about marine debris on behalf of the Clallam MRC.
Member Spotlight: Tom Hoban
Snohomish MRC
Mr. Hoban's family has a generational history of living on the Puget Sound waterfront in Snohomish County. He has experience working for the Fish & Game Dept. in Alaska, was a Red Cross lifesaving instructor and a rescue swimmer while on active duty in the Coast Guard.
Continue Reading »
Upcoming Events
Thursday-Thursday
March 05-April 30
3 pm-6 pm

Register to join the Salish Sea Stewards training to receive 40 hours of FREE classroom and field based instruction by local and regional experts about Salish Sea ecosystems. Application available at www.skagitmrc.org.

Classes are every Thursday from March 5 – April 30, 3-6 PM at Padilla Bay Reserve.

Padilla Bay Reserve

Saturday
March 07


Free oil spill preparedness and response workshops designed  for elected officials, emergency managers, and other public officials are being presented in Northwest Straits counties.

Saturday, March 7, 2015 – Friday Harbor Labs, San Juan County MRC

Preregistration is required by contacting Heidi Lehman

Saturday-Saturday
March 07-April 18


Shoreline landowners in Northwest Straits communities are invited to attend a FREE workshop on shoreline erosion management. Click here to learn more.

March 7, 2015 - Jefferson County, Pt. Hadlock Library
March 14, 2015 - Skagit County, Fidalgo Bay Resort
March 21, 2015 - Whatcom County, N. Whatcom Fire Station #62
March 28, 2015 - Snohomish County, Warm Beach Community Church
April 18, 2015 - Island County, TBD
TBD - San Juan County
TBD - Clallam County