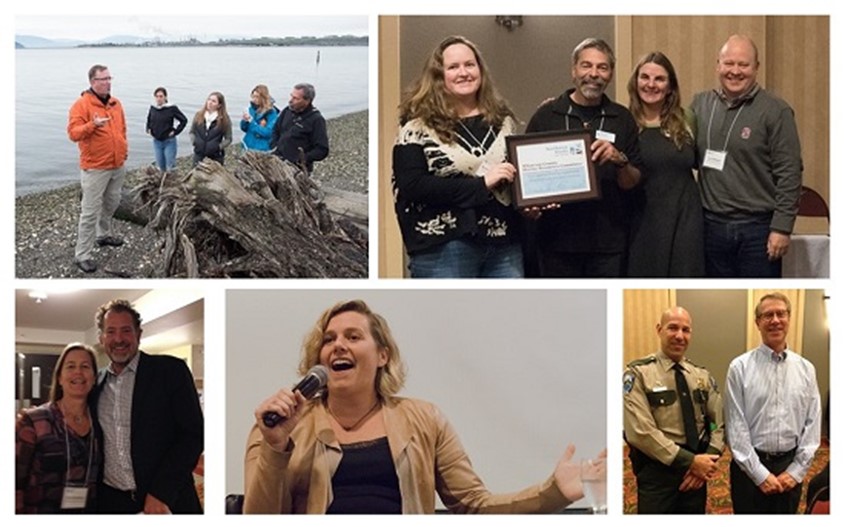 17th Annual Marine Resources Committee Conference
CLICK HERE for full event information including photos and presentations.
The 17th Annual Northwest Straits Initiative MRC Conference was held November 6-7, 2015 in Bellingham with the theme The Northwest Straits Initiative In Action. 
CONFERENCE TOPICS Included:
Featured speaker Dr. Florian Graner, marine biologist and cinematographer
Communicating Science 
Climate Change Adaptation in Puget Sound
Kelp Monitoring in the Salish Sea
Nearshore Ecology, Restoration, and Restoration Funding
The Northwest Straits Commission is a regional coordinating body comprised of people who care about the marine areas where they live, and who work together to protect and restore marine resources.
The Northwest Straits Commission carries out regional conservation projects and supports the work of seven Marine Resources Committees through funding, technical support, training and regional coordination.
Find us on Facebook.     Follow us on Twitter.
More About Us and the Northwest Straits Region »
Northwest Straits Commission Meeting - December
December 04
WebEx Conference Call
More Information
2015 Regional Kelp Surveys

 Kayak-based kelp surveys were carried out in six counties this past growing season, kicking off the first year of MRC bull kelp surveying. Surveys have now come to an end for the year, and a huge THANK YOU goes out to everyone who was involved in getting this project off the ground.

Goodbye to Terrie Klinger

Dr. Terrie Klinger has been a part of the Northwest Straits family for over 12 years. She was a member of the San Juan Marine Resources Committee before being appointed as a Governor-appointee on the Northwest Straits Commission, a position she has held for the past 8 years. It has been a privilege for us to work with Terrie.

Welcome to Lucas!

We would like to extend a warm welcome to the Commission's newest staff member, Dr. Lucas Hart, joining us as our Marine Program Manager. Dr. Hart has been a Research Scientist at U.S. Geological Survey for the past five years, with a specialty in Pacific herring and other forage fish. He was involved in a variety of investigations related to virus, antibodies, parasites and climate change impacts to forage fish health. He has also been an active member of the Jefferson MRC, leading their kelp monitoring project and various outreach efforts of the MRC, as well as serving as a volunteer at the Port Townsend Marine Science Center on a sea star wasting disease survey.
Member Spotlight: Greg Ayers
San Juan MRC
Dr. Greg Ayers is an engineer, cardiologist and medical device inventory. He is a serial entrepreneur and venture capitalist in biotech industry. He and his wife Patricia live on Orcas Island, San Juan County Washington.
Continue Reading »
Upcoming Events
Friday
December 04
10 am-12 pm

WebEx Conference Call