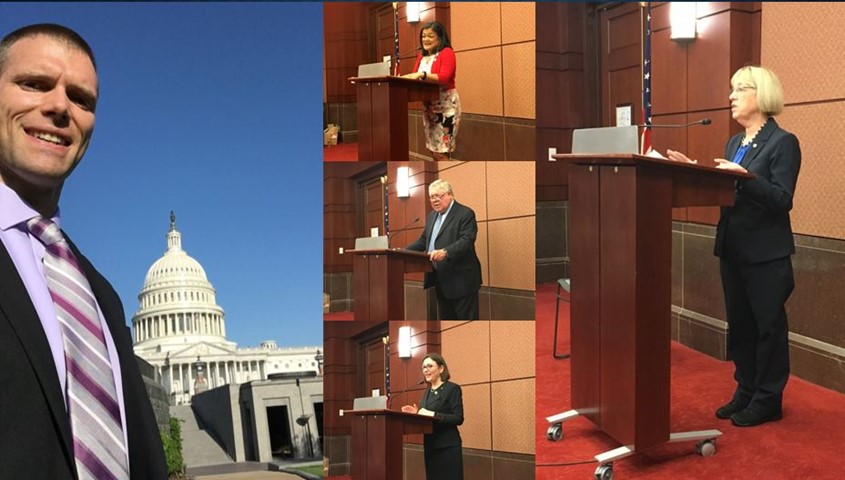 2018 Puget Sound Day on the Hill a success
Roughly 60 representatives from a variety of organizations traveled to Washington DC last week to raise awareness for continued funding and support for Puget Sound recovery. Legislators from across Puget Sound, including Sen. Patty Murray, Reps. Derek Kilmer, Denny Heck, Suzan DelBene, Rick Larsen, and Pramila Jayapal along with special guest Norm Dicks addressed the coalition and expressed overwhelming support for recovery of the Sound. These leaders, along with Sen. Maria Cantwell, Reps. Jamie Herrera Beutler, Dan Newhouse, Dave Reichert, Adam Smith and their staff also made time to meet with small groups of the coalition to discuss concerns and answer questions. Please extend a thank you to these individuals for their support--with their help, we will continue to make much-needed progress toward a clean and sustainable Puget Sound.
The Northwest Straits Commission is a regional coordinating body comprised of people who care about the marine areas where they live, and who work together to protect and restore marine resources.
The Northwest Straits Commission carries out regional conservation projects and supports the work of seven Marine Resources Committees through funding, technical support, training and regional coordination.
Find us on Facebook.     Follow us on Twitter.
More About Us and the Northwest Straits Region »
Beach cleanup nets over a ton of debris in Clallam County

Clallam

Clallam MRC partners with Surfrider, CoastSavers, civic groups and community volunteers to host an annual Earth Day beach cleanup event. The 2018 effort was a huge success, with 183 volunteers removing an estimated 2,119 pounds of marine debris from 19 beaches along the Strait of Juan de Fuca. One of this year's star volunteers was Elsa, who wanted to spend her fifth birthday cleaning the beach at Dungeness Spit so she could "help the animals". In addition to cleaning up the beach she brought cookies for all the other volunteers. Thanks, Elsa! Clallam MRC's focus area is the remote Western Strait beaches located near the communities of Clallam Bay-Sekiu, where volunteers removed 1,300 pounds of debris from the 11 beaches. As is often the case, much of the marine debris found was cigarette butts, beverage bottles and cans, food wrapping, plates and cups and pieces of rope. Learn more about Clallam MRC's efforts to keep marine debris off the beach here.

Boaters: be alert for the Whale Warning Flag

San Juan

It's boating season, and the San Juan Marine Resources Committee will be piloting a whale warning flag to signal when whales are close, so that boaters can ensure they are following the Be Whale Wise guidelines to reduce the impact of vessel traffic on Southern Resident killer whales. Look for the flag on the water and at select stations on land sometime next month!

San Juan MRC is working with many partners on this and other actions to protect the Southern Resident killer whales. Learn more about this project as well as their other efforts here.

Our Coast Community Film series wraps up in Snohomish

Snohomish

Snohomish MRC wrapped up their series of six incredible film events, reaching more than 300 residents to improve ocean literacy and awareness of the marine environment. The MRC coordinated with engaging speakers to showcase an array of films to inspire and educate Snohomish County residents on freshwater, Puget Sound and ocean issues. Attendees had an opportunity to join in a discussion following each film, and were encouraged to continue to be engaged through use of the MyCoast smartphone app to gather long-term photographic data on Snohomish County shorelines. Next step - they will be working on getting the films and curriculum into local schools. Learn more here.
Member Spotlight: Sarah Brown
Snohomish MRC
Sarah Brown is a biologist with a lifelong addiction to all things marine. She began her career at the molecular level, performing gene-related research on melanoma and pyogenic granuloma. She transitioned to teaching, connecting students with the wonders of the natural world and sharing her passion for science.
Continue Reading »
Upcoming Events
Tuesday
June 26
9:30 AM

Help Jefferson MRC and WSU Jefferson County Extension plant a new rain garden in uptown Port Townsend. Everyone is welcome. No experience needed! Tools and snacks provided.

 

For more information or to sign up, contact Cheryl Lowe at Cheryl.lowe@wsu.edu or 360-379-5610 x 230

Port Townsend

June Northwest Straits Commission Meeting

Friday
June 29
9:00 AM-3:00 PM

Come see MRCs present to the Commission on upcoming projects.

Open to the public.

Pacific Rim Institute

Saturday
June 30


Save the date!

Jefferson County