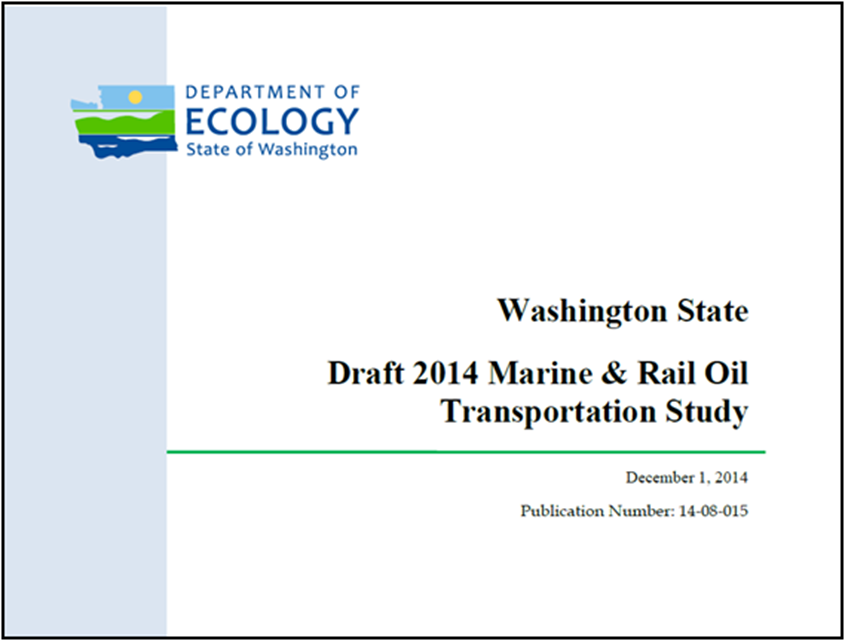 Report Recommends Increased Preparedness for Oil Train Accidents
The Department of Ecology's draft report to the Legislature on December 1st called for more people, equipment and money to deal with increasing oil train traffic across Washington. The Marine and Rail Oil Transportation Study focuses on developing recommendations to foster public health and safety, environmental protection, and respect for tribal treaty rights.
"Washington has a superb record for oil spill prevention, preparedness and response to our waters," said Dale Jensen, Spills program manager at Ecology. "We need – and can achieve with the proper resources and federal help – the same level of standard for spills on the inland portions of our state."
Dale will be giving a presentation on this study at our annual MRC Conference on December 6.
The Northwest Straits Commission is a regional coordinating body comprised of people who care about the marine areas where they live, and who work together to protect and restore marine resources.
The Northwest Straits Commission carries out regional conservation projects and supports the work of seven Marine Resources Committees through funding, technical support, training and regional coordination.
More About Us and the Northwest Straits Region »
Northwest Straits Commission Meeting - January
January 30
Pacific Rim Institute, 180 Parker Rd, Coupeville, WA 98239
16th Annual Northwest Straits MRC Conference

The Northwest Straits Initiative's 16th Annual MRC Conference was held December 5-6, 2014 at the Northwest Maritime Center in Port Townsend and was a great success! Materials and presentations from the conference are being uploaded to our conference web page. If the information you are interested in is not yet available, please check back soon.



 

Whidbey Island Pigeon Guillemot Study

Island

Frances Wood, Chair of the Island MRC, recently presented information about pigeon guillemot studies on Whidbey Island to the region's technical working group on marine birds. The annual breeding survey conducted by the MRC has generated 10 years of data on this beautiful and iconic bird. The pigeon guillemot, marbled murrelet, and rhinoceros auklet are three species included in a recovery strategy coordinated by the Puget Sound Partnership. The MRC project, conducted in collaboration with Whidbey Audubon and other partners, is the basis for two new similar studies near Nisqually and Tacoma.

Photo: Celia Bartram

Snohomish MRC Releases New Video

Snohomish

The Snohomish MRC recently completed a video featuring the Port Susan Marine Stewardship Area. Videographer Faith Haney interviewed farmers, MRC staff, Stillaguamish Tribe staff and Port Susan residents who have highlighted the importance of Port Susan for both people and marine resources. The video premiered at the November 20th Focus on Farming Conference and will be shown at the upcoming MRC Conference in Port Townsend. Click here to view the video!
Member Spotlight: Keeley O'Connell
Snohomish MRC
Ms. O'Connell is a restoration ecologist with People For Puget Sound. She has over six years of professional experience developing and coordinating habitat restoration projects and education programs in the nearshore environment of Puget Sound.
Continue Reading »
Upcoming Events
Thursday
January 22


The Symposium will bring together researchers, managers, and interested citizens to broaden our understanding of the vital resource that is Bellingham Bay and explore opportunities to enhance communication/coordination in order to protect it for future generations. FREE but limited to first 150 people. See web site for more details and registration.

Bellingham Cruise Terminal, Fairhaven

Northwest Straits Commission Meeting - January

Friday
January 30
10 am-3 pm

Pacific Rim Institute, 180 Parker Rd, Coupeville, WA 98239

Northwest Straits Commission Meeting - February

Friday
February 27
10 am-12 pm

WebEx Conference Call