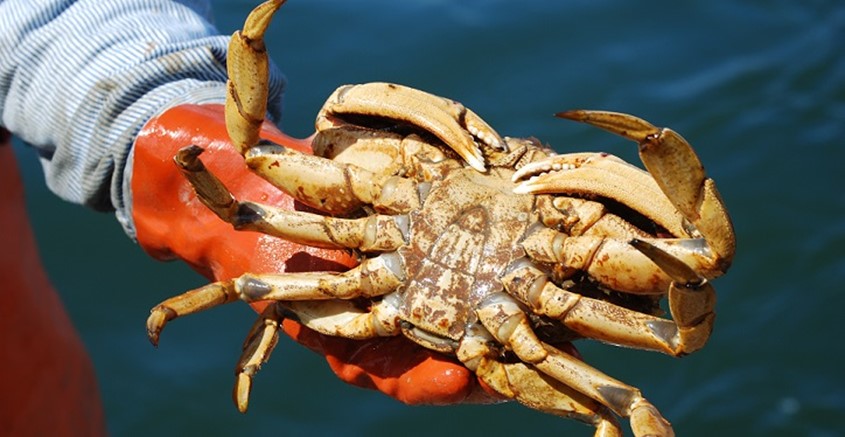 #CatchMoreCrab
Crabbing season is almost here! Please join the Northwest Straits Commission's efforts to reduce lost crab pots in Puget Sound through our #CatchMoreCrab campaign!
Click here to visit our campaign page and learn tips!
The Northwest Straits Commission is a regional coordinating body comprised of people who care about the marine areas where they live, and who work together to protect and restore marine resources.
The Northwest Straits Commission carries out regional conservation projects and supports the work of seven Marine Resources Committees through funding, technical support, training and regional coordination.
Find us on Facebook.     Follow us on Twitter.
More About Us and the Northwest Straits Region »
July NWSC Meeting
July 29
WebEx Conference Call
Salish Sea Stewards graduation

Skagit MRC

Congratulations to the nineteen new Salish Sea Stewards who graduated from the volunteer training program last month, ready to take on marine conservation, restoration and education efforts in Skagit County!

Spring seeding of Olympia oysters in Quilcene Bay

Jefferson MRC

Jefferson MRC is committed to restoring Olympia oysters in their local waters. Last month they distributed 10 bags of oyster shell in Quilcene Bay, kindly donated by Taylor Shellfish Farms. The shell is seeded with young Olympia oysters that they hope will recolonize where they were once abundant.

Thank you, Jeff Ward!

Northwest Straits Commission

This month the Commission acknowledges a fantastic team member and inspiring ocean advocate, Jeff Ward, who recently completed over three years of service on the Northwest Straits Commission as the representative of Clallam MRC.
Member Spotlight: Rachel Benbrook
Whatcom MRC
Rachel has been working on Puget Sound recovery for over a decade in the Northwest Straits region, conducting field research, educating residents of all ages about the environment, coordinating citizen science projects, and restoring nearshore habitat.
Continue Reading »
Upcoming Events
Monday
July 04
10:00 AM-1:00 PM

Join Skagit MRC as they identify marine life at low tide!

Washington Park, Anacortes

Cherry Point Beach Cleanup

Saturday
July 09


Co-hosted by the Whatcom MRC. More information available as the date approaches. 

Cherry Point, Whatcom County

July NWSC Meeting

Friday
July 29
10:00 AM-12:00 PM

WebEx Conference Call