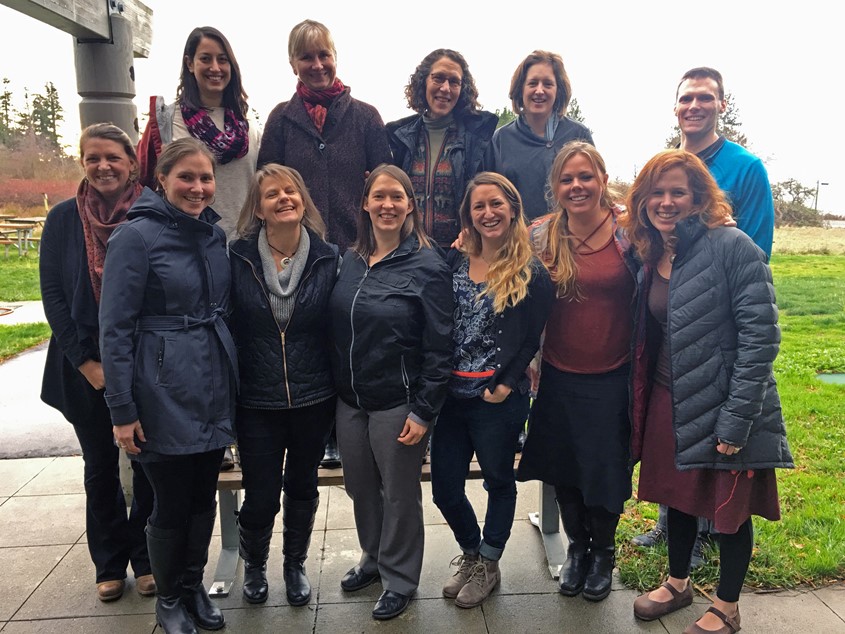 Reflecting on the year
As we settle in to the holiday season and look forward to the year ahead, it is important to remind ourselves of all we have achieved. A few things I think of are the thousands of hours Marine Resources Committee volunteers have dedicated to restoring and protecting the Northwest Straits; the new partnerships we have built and the old partnerships we have strengthened; and how gracefully the Northwest Straits Commission has aged over the last 20 years!

These strides can only be made when smart dedicated people commit to making a difference through collaboration, a philosophy our friends throughout the Northwest Straits Initiative have valued for two decades. Thank you for your commitment. We look forward to building on our achievements with all of you in 2019 and beyond. Enjoy a wonderful holiday and Happy New Year!     

Lucas Hart, Director
The Northwest Straits Commission is a regional coordinating body comprised of people who care about the marine areas where they live, and who work together to protect and restore marine resources.
The Northwest Straits Commission carries out regional conservation projects and supports the work of seven Marine Resources Committees through funding, technical support, training and regional coordination.
Find us on Facebook.     Follow us on Twitter.
More About Us and the Northwest Straits Region »
Northwest Straits Commission meeting - January 2019
January 25
Island County
Southern Resident Killer Whale Community Workshop 2.0

San Juan

"I will avoid using plastic straws" was one of many personal commitments to act from the 2017 San Juan County Community Workshop for Southern Resident Killer Whales. This month the San Juan MRC hosted the second Community Workshop to revisit those personal commitments and provide updates on the status of state and local efforts underway to support Southern Resident Killer Whale recovery.

Approximately 60 members of the community, MRC, local nonprofits, research community, eco-tour operators and naturalists, educators, and local and state government came together to participate in meaningful discussion about the state of Southern Resident Killer Whales and how the community can take action. With increasing attention on the health of the endangered Southern Resident Killer Whales, workshops like these provide an important opportunity to engage the community in local and state level policy and decision making.

Learn more about the work that San Juan MRC is doing on their website, and follow them on Facebook. 

MRC Membership Opportunities

All

Sending our thanks and best wishes to Doug Stark, who is resigning from Whatcom MRC to pursue new opportunities. Doug served on the MRC as well as on the Northwest Straits Commission, where he brought great enthusiasm and passion for conservation in the Salish Sea. We wish him the best of luck in his new endeavors!

Thinking of joining an MRC?

Whatcom has vacancies for the conservation and economic interest's positions.

Clallam MRC is seeking a person to represent marine trades. The application is available online here. 

Island MRC and San Juan MRCs have vacancies too.

Plastic Free Salish Sea

San Juan

What would it take to have a Plastic Free Salish Sea? San Juan MRC produced a short documentary highlighting the activities going on around the county to reduce waste and particularly single use plastics. Watch it and consider how your community could reduce plastic waste!
Member Spotlight: Sarah Brown
Snohomish MRC
Sarah Brown is a biologist with a lifelong addiction to all things marine. She began her career at the molecular level, performing gene-related research on melanoma and pyogenic granuloma. She transitioned to teaching, connecting students with the wonders of the natural world and sharing her passion for science.
Continue Reading »
Upcoming Events
Northwest Straits Commission meeting - January 2019

Friday
January 25
10am-3pm

Island County