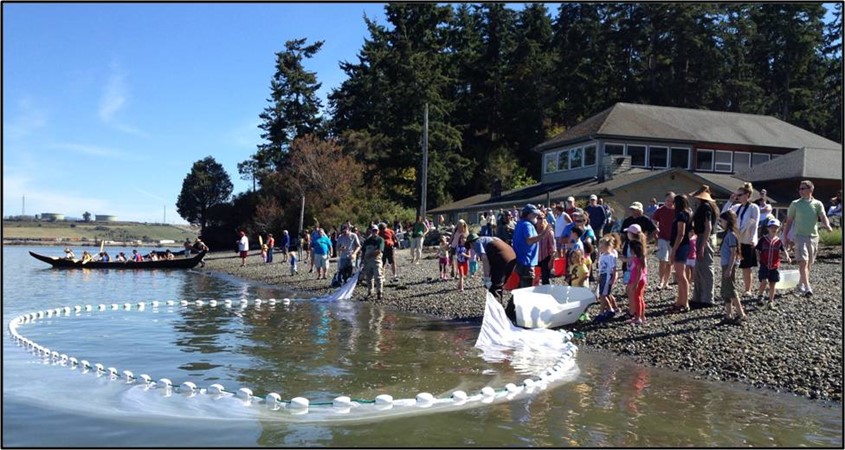 11th Annual Fidalgo Bay Day
Skagit MRC and their partners held the 11th annual Fidalgo Bay Day on Saturday, September 13, hosted by the Samish Indian Nation at their beachfront convention center. This one-day event is held annually to increase public awareness of the marine environment and encourage people to become good stewards of Fidalgo Bay and the Salish Sea. Over 330 participants attended, with local residents joined by visitors from near and far. Displays and demonstrations organized as part of National Estuaries Day were set up along the Tommy Thompson trail leading to the Fidalgo Bay event.
The Northwest Straits Commission is a regional coordinating body comprised of people who care about the marine areas where they live, and who work together to protect and restore marine resources.
The Northwest Straits Commission carries out regional conservation projects and supports the work of seven Marine Resources Committees through funding, technical support, training and regional coordination.
More About Us and the Northwest Straits Region »
Northwest Straits Commission Meeting, October
October 24
Conference Call
Marine Debris Removal Program Update

Clallam MRC

In mid-July, the Northwest Straits Commission partnered with the Washington Conservation Corps (WCC), Jamestown S'Klallam Tribe and Jefferson Land Trust to remove accumulations of marine debris from Sequim and Quilcene Bays. The WCC Veteran's Crew removed 2,160 pounds of debris including oyster seed bags, shellfish aquaculture nets, large styrofoam blocks, and car tires used as shoreline armoring. Special thanks to Jefferson County MRC member Ralph Riccio for coordinating project logistics.

Our Marine Debris Program Coordinator Paul Argites is always on the lookout for new project sites. If you know of a Puget Sound beach in need of cleanup work please contact Paul Argites or (360) 853-5387. More information about the Marine Debris Program can be found on our web site.

Discovery Bay Olympia Oyster Relocation

Jefferson MRC

Volunteers from the Jefferson MRC, Beach Watchers and WDFW relocated more than 5,000 oysters in an Olympia oyster "rescue mission" on June 25th, to move them out of harm's way prior to a major nearshore restoration project. The volunteers collected the old shells and rocks the oysters were attached to within the proposed construction zone, and placed them into tidal channels that would not be disturbed during the construction phase.

The project involves removing riprap and an old creosote railroad trestle as well as lowering the height of the railroad berm to allow tidal overwash into the adjacent lagoon, to enhance habitat for salmon and forage fish. Restoration work at the site is being led by the North Olympic Salmon Coalition. More information can be found on the Maynard Beach Restoration project page.

MRC Picnic and Meadowdale Restoration Site Visit

Snohomish MRC

Last month, Snohomish MRC combined their annual picnic with a field visit to Meadowdale Park, where the MRC is teaming up with the Snohomish County Parks Department to conduct a feasibility study to look at a variety of options to improve public access to the beach, and improve fish and nearshore habitat. Currently both people and fish have to travel through a culvert under the railroad tracks to access the beach.

Snohomish County Councilmember Stephanie Wright attended the tour along with Snohomish County Park Director, Tom Teigen, and Park Staff Logan Daniels and Sharon Swan. Ranger Doug Dailer was also at the event to help coordinate logistics and provide local knowledge. Councilmember Wright expressed appreciation for the work of the MRC to help move important nearshore projects, such as this one, forward.
Member Spotlight: Tom Hoban
Snohomish MRC
Mr. Hoban's family has a generational history of living on the Puget Sound waterfront in Snohomish County. He has experience working for the Fish & Game Dept. in Alaska, was a Red Cross lifesaving instructor and a rescue swimmer while on active duty in the Coast Guard.
Continue Reading »
Upcoming Events
Ocean Health Forum

Tuesday
October 07
6:30pm-8:00pm

NOAA, Puget Sound Restoration Fund and Climate Action Committee will be represented. Free public event, see flyer for more details.

Northwest Maritime Center, Port Townsend, WA

Northwest Straits Commission Meeting, October

Friday
October 24
10am-12pm

Regular monthly meeting of the Northwest Straits Commission. To participate in the conference call, contact Holly Faulstich.

Conference Call

Saturday
October 25


Visit the Snohomish MRC booth at the Sound Living event in Everett -- a community day of learning about the connections between the water, land and people of Snohomish County and the surrounding area.

Everett Community College