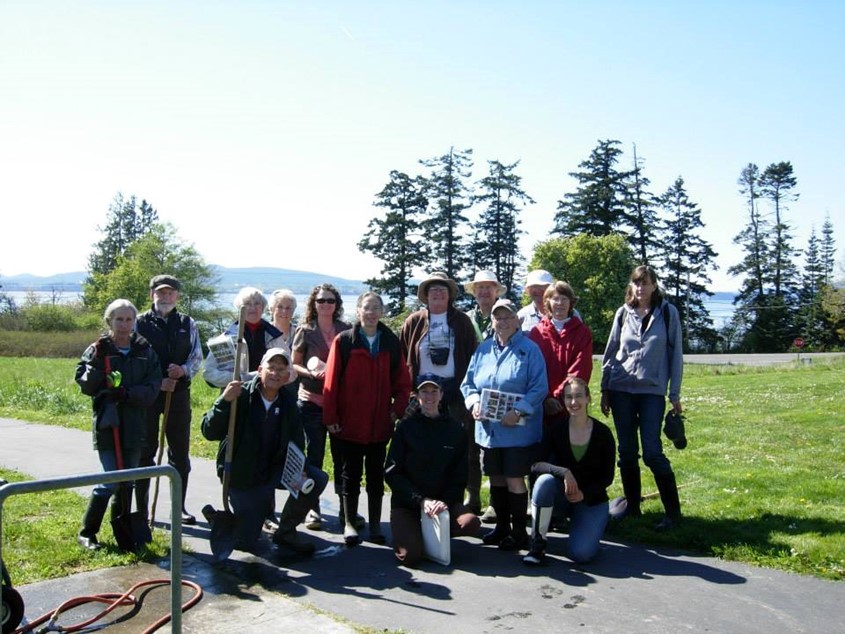 Salish Sea Stewards Class of 2015!
The Skagit Marine Resources Committee welcomes 25 new volunteers who recently completed the 2015 Salish Sea Stewards training. What an impressive group! Enthusiastic and eager to learn about the marine environment, many have already started helping with projects. Thank you for making a difference Salish Sea Stewards!

Many thanks to Catherine Buchalski, Volunteer Program Coordinator, and all of the excellent presenters who volunteered their time and expertise to make the training happen. Training will take place again in the spring of 2016.

The Salish Sea Stewards training program is a program of the Skagit MRC, and is coordinated as part of the Coastal Volunteer Partnership at Padilla Bay. Learn more about the work of the Skagit MRC on their website.
The Northwest Straits Commission is a regional coordinating body comprised of people who care about the marine areas where they live, and who work together to protect and restore marine resources.
The Northwest Straits Commission carries out regional conservation projects and supports the work of seven Marine Resources Committees through funding, technical support, training and regional coordination.
Find us on Facebook.     Follow us on Twitter.
More About Us and the Northwest Straits Region »
Northwest Straits Commission Meeting - June
June 26
WebEx Conference Call
Clam Surveys in Chuckanut Bay

Whatcom

Whatcom MRC recently partnered with the Puget Sound Restoration Fund Garden of the Salish Sea Program to conduct a clam survey in North Chuckanut Bay with third graders and Bellingham Technical College students. More than eighty students participated in the clam survey over the course of two days.

Students worked with trained MRC members to collect data on clam species diversity and abundance. This clam survey provides important data for continuing to assess the health of shellfish in North Chuckanut Bay. Click here to learn more about the work of the Whatcom MRC.

Community forum on ocean health

The Northwest Straits Commission hosted a Community Forum on Ocean Health in Langley on May 5 to share current information about ocean acidification. An excellent turnout of more than 70 community members was welcomed by County Commissioner Helen Price Johnson and Island MRC Chair Frances Wood. Guest presenters Dr. Nina Bednarsek (Univ. of WA) and Brad Warren (Global Ocean Health) discussed the changes in ocean chemistry and how communities are combating ocean acidification, followed by a presentation by Ian Jefferds of Penn Cove Shellfish on the involvement of local shellfish growers. 

Participants surveyed said that the presentations increased their knowledge of this important issue, and they appreciated the specific recommendations for local actions to address ocean acidification. If you missed this event, join us on June 11 at Fidalgo Bay Resort for the next forum in the series. Learn more about the Commission's work on Ocean Acidification on our website. 



Marine Debris Project

Since January 2014, the Northwest Straits Commission has been working in partnership with the Dept. of Ecology's WA Conservation Corps Veterans crews to cleanup Puget Sound shoreline sites where marine debris has accumulated. During that period, crews have removed 91,863 pounds (41.13 tons) of marine debris from 30 project sites located throughout the Northwest Straits region. The project comes to a close this month and we extend out thanks to the many public, private and tribal land owners who have been involved with the marine debris removal projects, and especially to the program coordinator, Paul Argites.

Portions of debris collected during cleanup projects were donated to the Anacortes Arts Festival staff for a community-based art project called "Tidecraft" in which salvaged marine debris is used to construct artwork. The collection of debris from beaches and waterways will be on display at the August 2015 festival and will provide an opportunity for the public to learn more about its impacts on the environment.


Member Spotlight: Tony Petrillo
Jefferson MRC
A solo consultant in the ocean engineering business, he works on plenty of ocean issues, but this was a learning experience in community participation….a way to, as he puts it, "develop connective tissue in the community".
Continue Reading »
Upcoming Events
Saturday
May 30
8:30 am-4:30 pm

Join the Clallam MRC and Islands Oil Spill Association for a FREE two-part oiled wildlife training.

Part 1 of this training will cover hands-on bird anatomy, basic examination, handling skills, and intubation/hydration.

See the Clallam MRC web site for more information or click here to register.

Exposition Hall, Clallam County Fairgrounds

Wednesday
June 03
6pm-8pm

Are you interested in becoming a water quality monitoring volunteer? The Whatcom MRC and other organizations are looking for citizen scientists to help with their water quality programs. Attend this free training to learn about volunteer opportunities, water quality status, sampling procedures and methods, salmon habitat requirements, and current recovery efforts.

Whatcom County Public Works, Garden Room

Wednesday
June 03
6:30 pm

How many fish are in the sea? And what does it mean for us, here on the Olympic Peninsula, as global demand for seafood and fish continues to increase? Our moderated panel includes Tribal members, restaurateurs, fisheries biologists, and seafood processors. This unique opportunity is brought to you by the Clallam MRC in partnership with Feiro Marine Life Center.

Landing Mall, Port Angeles