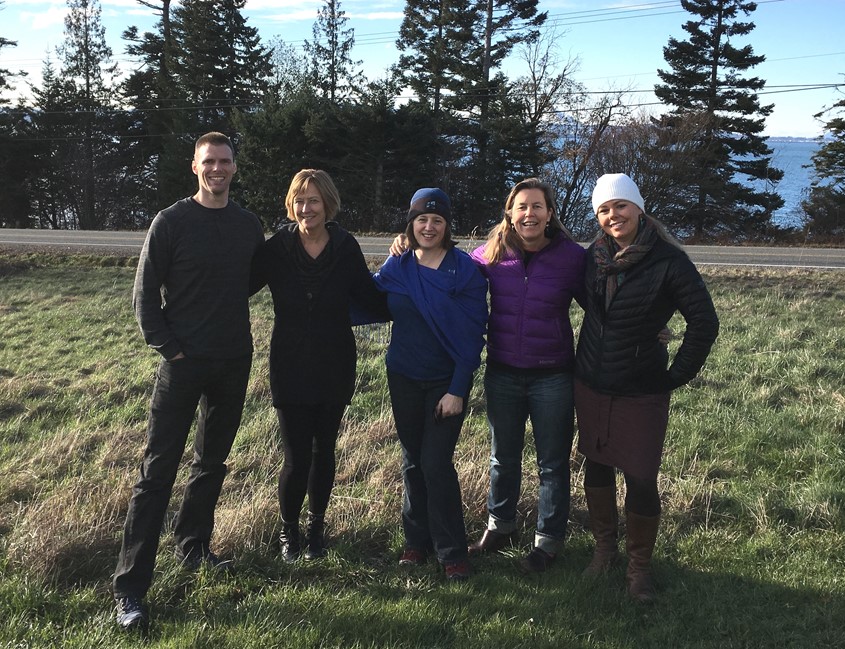 2016 Northwest Straits Initiative highlights!
As 2016 comes to a close, we're thankful to all who helped to make the year successful. The work we do could not be accomplished without volunteers who participate on Marine Resources Committees and carry out projects, the businesses and local governments supporting them, the state and federal agencies providing critical funding, guidance from tribal managers, our science advisors, and our non-profit partner the Northwest Straits Foundation. Click here to read about some of the highlights of 2016.
Although there is so much still to be done, we're inspired by these and the many other accomplishments of 2016. On behalf of the staff and members of the Commission, we wish all of you a happy holiday season, and look forward to working together in the coming year!
The Northwest Straits Commission is a regional coordinating body comprised of people who care about the marine areas where they live, and who work together to protect and restore marine resources.
The Northwest Straits Commission carries out regional conservation projects and supports the work of seven Marine Resources Committees through funding, technical support, training and regional coordination.
Find us on Facebook.     Follow us on Twitter.
More About Us and the Northwest Straits Region »
January NWSC Meeting
January 27
Dungeness River Audubon Center
Goodbye Anne Murphy and Laura Arnold

Jefferson MRC and San Juan MRC

The end of the year also marks the departure of two of the longest-serving MRC members in the Northwest Straits family: Anne Murphy in Jefferson County and Laura Arnold in San Juan County, who have an incredible combined 34 years of service!

 As these incredible members move on from their work with the MRC, we extend a sincere and heartfelt thanks for their many years of service to their local communities and to the Salish Sea.

Ashley Mackenzie, Jefferson MRC

Jefferson MRC

Ashley Mackenzie, Jefferson MRC member since 2015, was recently elected chair of the MRC. She works professionally as a biological research technician for U.S. Geological Survey and is passionate about the communication of science in MRC projects. Ashley believes in the value of the MRC to the greater community, and the protection and strategic management of our marine resources as a social responsibility. She is active in many areas of the MRC including kelp monitoring, forage fish monitoring at Fort Townsend State Park and outreach events where she can reach young professionals in the field. She motivates the MRC to increase their visibility in Jefferson County, and MRC members appreciate her bright attitude and fresh perspective. Thank you, Ashley, for sharing your passion for conservation and citizen science with Jefferson MRC and the Northwest Straits Initiative!

Tip of the month

Northwest Straits Commission

It's getting cold outside and icy sidewalks are slippery! Avoid using traditional deicers such as road salt, which may contribute to water quality problems in the Salish Sea. Consider safer choices to use sparingly, or use a good old snow shovel. If shoveling isn't an option, try traction cleats on your winter boots as a last resort. 
Member Spotlight: Jay Lind
Skagit MRC
Jay Lind, MRC Chair, was born and raised in the Seattle area and graduated from the University of Puget Sound with a business degree in 1969. Married to April since 1969, they have two sons and two granddaughters. He started sport fishing after retiring and joined the Skagit MRC to become involved with enhancing the local marine resources.
Continue Reading »
Upcoming Events
Wednesday
January 25
7:30 PM-9:20 PM

Join Whatcom MRC and Whatcom Watershed Information Network for a special viewing of this important film.

Regal Cinema Barkley Village 16 IMAX & RPX

January NWSC Meeting

Friday
January 27
10:00 AM-3:00 PM

Our Commission meeting will take place in Clallam County this month!

Dungeness River Audubon Center

Northwest Straits Initiative 2017 Annual Retreat

Thursday-Friday
February 23-February 24


This event helps build relationships throughout the initiative. More information to come!  

Padilla Bay Research Reserve, Skagit County