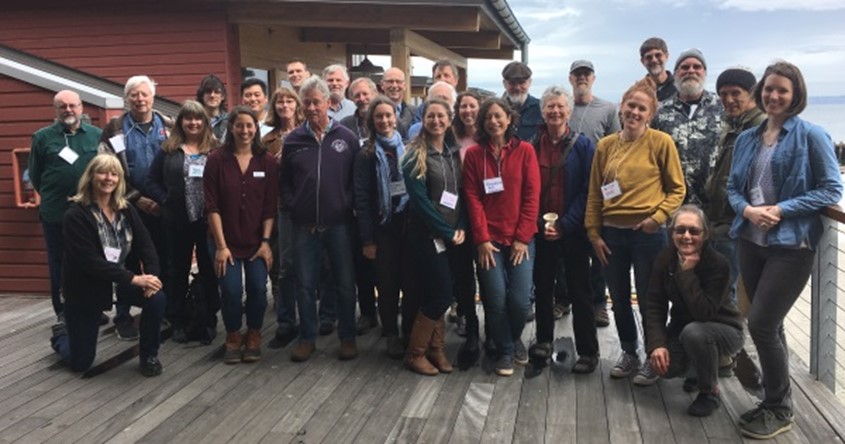 MRC kelp enthusiasts convene
Members from all seven MRCs and project partners convened in Port Townsend this month to review accomplishments and collaborate on the direction of the regional kelp monitoring project that's now entering its fifth year.
"I came away feeling what we are doing is valuable, both as a way of augmenting existing scientific information, and in providing citizen scientists and student interns with an opportunity to connect with the environment." said Jeff Ward of the Clallam MRC.
The MRCs plan to continue contributing to the growing regional kelp database while also expanding and exploring research questions about kelp specific to each county. Check out our regional kelp project here.
The Northwest Straits Commission is a regional coordinating body comprised of people who care about the marine areas where they live, and who work together to protect and restore marine resources.
The Northwest Straits Commission carries out regional conservation projects and supports the work of seven Marine Resources Committees through funding, technical support, training and regional coordination.
Find us on Facebook.     Follow us on Twitter.
More About Us and the Northwest Straits Region »
May Commission Meeting
May 31
WebEx
Plastic Free Salish Sea

San Juan

San Juan MRC launched an education and awareness campaign aimed at changing behavior and the culture of plastics use. Their vision is to eliminate single-use plastics in San Juan County and prevent the devastating effects from plastic on marine life and human health. Large plastic debris is found daily on San Juan County's shorelines, marine animals ingest plastic and become entangled in it. Microplastics have been found in fish and shellfish and even in sea salt, so in turn it is finding its way into our diets also. The MRC recently created a website to provide a resource for all solid waste, recycling, waste reduction and zero waste resources, events and organizations in San Juan County. Plastic Free Salish Sea is a partnership of many organizations from around the county and they welcome more! Learn more and follow their journey to reduce plastic use at www.plasticfreesalishsea.org.

What is a food web? How are you connected to the food web

Island

Through the month of April – Whidbey Earth and Ocean Month – the Island County Marine Resources Committee (MRC) has a display on marine food webs at the Coupeville Library. Stop by to learn about the MRC, see an example marine food web, enjoy beautiful photos of local marine species, and share your thoughts on how you connect to the food web.

2018 Annual Report

Northwest Straits Initiative

Click here to read the full report.
Member Spotlight: Ed Bowlby
Clallam MRC
Ed Bowlby represents the Academic Community on Clallam MRC. A retired marine biologist, Ed is semi active with selected conservation science projects. Ed completed his graduate degree in Marine Biology in northern California and worked both as a freelance consultant and researcher on marine wildlife and marine resource issues for over 30 years. From 1994-2014 he was the Research Coordinator for Olympic Coast National Marine Sanctuary. Ed is one of the founding stakeholders in Clallam's MRC since 1999.
Continue Reading »
Upcoming Events
Thursday
May 30
4:30 PM

Whatcom MRC will present at Western Washington University. The series is free and open to the public.

Bellingham, WA

May Commission Meeting

Friday
May 31
10:00 AM-12:00 PM

WebEx

Thursday
June 06
5:00 PM-6:00 PM

Join Whatcom MRC for this special speaker series. Dr. Todd Ansell will share why the "big 3" forage fish are a vitally important part of the Salish Sea.

Civic Center Complex, Bellingham, WA