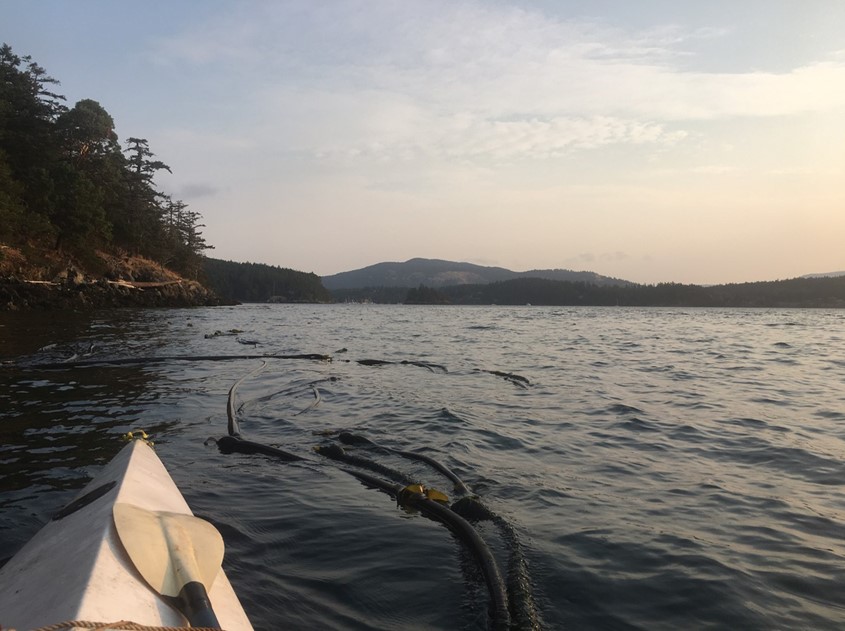 Kelp presentation during Virtual Salish Sea Ecosystem Conference a success
This month, what was planned as an inspiring in-person event in Vancouver, BC was re-imagined at the last minute by conference organizers and held live but virtually over two days and made accessible to all who were interested. Thankfully, those COVID-19 social distancing requirements that prevented bringing people together in the same space didn't keep participants from connecting and sharing – it was a lively and engaging event that was trending at #3 on Twitter at one point.
If anything, the enthusiasm for the Salish Sea was even more apparent. Northwest Straits Commission staffer Dana Oster's presentation, Monitoring Salish Sea bull kelp via kayak surveys, on day two reached an estimated audience of 800 participants! It was a great opportunity to reach more people, and a more diverse audience, than would have been possible at an in-person event.
The Zoom sessions will be posted to the conference website soon. Many thanks to the conference organizers for rising to the challenge and ensuring that the Salish Sea community stayed connected while we're apart! Click here to explore the presentations available online.
The Northwest Straits Commission is a regional coordinating body comprised of people who care about the marine areas where they live, and who work together to protect and restore marine resources.
The Northwest Straits Commission carries out regional conservation projects and supports the work of seven Marine Resources Committees through funding, technical support, training and regional coordination.
Find us on:  Facebook   Twitter   Instagram   LinkedIn
More About Us and the Northwest Straits Region »
June Commission Meeting
June 26
WebEx
Clallam MRC spring interns kick off their work

Clallam MRC

The Lower Elwha Tribe installed a smolt trap on Tumwater Creek in early April, preparing for a project that two new Clallam MRC interns are working on. Interns Anika Avelino and Alissa Loftstrom are now able to start documenting salmonids and Pacific lamprey usage of Tumwater Creek. Tribal biologists installed the trap, but checking the trap can easily be done by two people keeping proper social distance and wearing masks.

Checking the smolt trap for the first time in late April, the interns cleaned the trap of leaves and woody debris, and caught and identified the fish in the box. Total catch was two Oncorhynchus mykiss (steelhead/rainbow – same species but steelhead migrates to the ocean), three cutthroat and a couple of sculpins. Not a bad start! Learn more about the work of the Clallam MRC interns at www.clallamcountymrc.org.

Jefferson MRC kicks off Symposium series

Jefferson MRC

Sharing, learning, and engaging while apart.

Those were the themes of our virtual MRC Symposium featuring the Jefferson MRC. MRC members convened remotely while volunteers shared an overview of the Jefferson MRC and two feature projects: rain gardens and voluntary no anchor zones. This online symposium platform allowed MRC members to share with peers, learn how these projects get off the ground, how they are working, and what it would take to create something similar in other counties.

Click here to learn more about Jefferson MRC.

Bull kelp featured on Island MRC website

Island MRC

Did you know about 9% of Island County's shoreline has associated bull kelp? Have you wondered what volunteers are doing to monitor bull kelp? Want to see some of the amazing marine life found within kelp beds? You're in luck!

Island MRC recently updated their web page on bull kelp monitoring with new information, videos, and the report on the 2019 monitoring season. Learn more about the project and the importance of bull kelp in the Salish Sea ecosystem. Click here to check it out!
Member Spotlight: Linda Rhodes
Island MRC
Linda Rhodes, PhD, of Greenbank is a research microbiologist at the National Oceanographic & Atmospheric Administration's (NOAA) Northwest Fisheries Science Center in Seattle. She has conducted research in salmon infectious disease and immunology and in aquatic toxicology around Puget Sound since the mid-1970s.
Continue Reading »
Upcoming Events
Virtual MRC Symposium: Session #4

Thursday
June 04
3:30 pm-5:00 pm

This is the fourth of a multi-part series called the Virtual MRC Symposium.
Representatives from one of the seven MRCs will highlight projects, successes and lessons learned during this session. Register here. 

Virtual MRC Symposium: Session #5

Thursday
June 18
3:30 pm-5:00 pm

This is the fifth of a multi-part series called the Virtual MRC Symposium. Representatives from Snohomish MRC will highlight projects, successes and lessons learned during this session.

 

To join the WebEx meeting, click here. Enter your name and email address and click "Join."

WebEx

June Commission Meeting

Friday
June 26
10:00 AM-1:00 PM

 To join the WebEx meeting, click here. Enter your name and email address and click "Join."

For audio conference, dial: 1-415-655-0001, access code: 286 483 983

WebEx