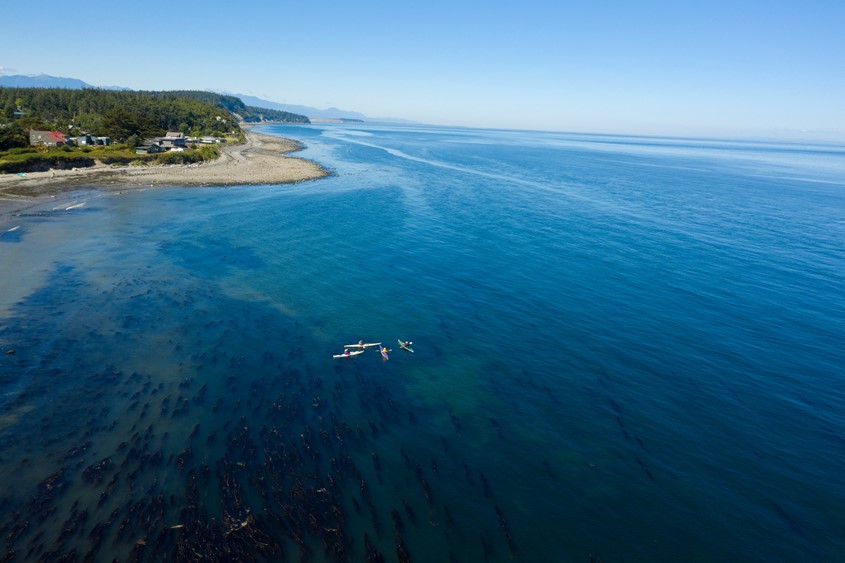 Pacific Sand Lance and Bull Kelp
For the first time in six years of kayak based bull kelp surveys at Ebey's Landing on Whidbey Island, volunteers were able to document Pacific sand lance feeding in one of the bull kelp beds! Here's a short video captured by Vernon Brisley of these important forage fish nestled amongst bull kelp fronds during an afternoon snack. Bonus points if you can spot a couple of Pacific herring who decided to hang out with the sand lance school.
In case you are uncertain about what Pacific herring look like, check out this video taken in the same bed with the sand lance. These videos provide excellent documentation of how important bull kelp beds are for juvenile forage fish.
"Underwater videos and pictures provide windows into all the life thriving in bull kelp beds," says Linda Rhodes, former Island MRC member and leader of the Ebey's Landing kelp surveys. "It's not only the charismatic critters, like fish, that we want to see, but also the less noticeable occupants, like co-existing algae and other kelp."
"Documenting the role of bull kelp within our local ecosystem has value for researchers and provides a visual communication tool for our community about the importance of this seasonal habitat," says Rhodes.
Loving this underwater footage of all the life found in our local kelp beds? Visit Island MRCs Kelp Monitoring page for even more videos!
The Northwest Straits Commission is a regional coordinating body comprised of people who care about the marine areas where they live, and who work together to protect and restore marine resources.
The Northwest Straits Commission carries out regional conservation projects and supports the work of seven Marine Resources Committees through funding, technical support, training and regional coordination.
Find us on:  Facebook   Twitter   Instagram   LinkedIn
More About Us and the Northwest Straits Region »
October Commission Meeting
October 29
Whatcom Internship Opportunities

Whatcom MRC

Whatcom MRC is hiring two new interns! One internship will support their forage fish survey program, and the other will support the North Sound Stewards program. Apply here by September 14.

A Closer Look at Olympia Oysters

Jefferson MRC

Did you know that one small but persistent population of Olympia oysters is located in Jefferson County's Discovery Bay?

Jefferson MRC has been working for 10+ years to protect the Discovery Bay population and restore Olympia oysters to local waters. Watch this video, produced by local filmmaker Jessica Plumb, to learn more.

Fidalgo Bay Day goes virtual!

Skagit MRC

Skagit MRC's annual event is always an exciting day on the beach, full of crafts, local seafood samples and educational activities. Like other events this year, they've had to adapt due to social distancing requirements. The great news is that a virtual version of the show will go on, and the many participating organizations have contributed to a scavenger hunt activity book that has activities for all ages, some at specific geographic locations and others that can be done at home.

The activity guide can be downloaded, and copies will be available at select locations. Check the Skagit MRC Fidalgo Bay Day website at www.fidalgobayday.com for updates. Those who complete activities in the month of September will receive a certificate, and participants can continue the activities any time. Share photos from your activities on Instagram with the hashtag #FidalgoBayDay2020.
Member Spotlight: Karin Roemers-Kleven
San Juan MRC
Karin relocated to San Juan County from Tacoma in 2015 to be close to the resident orcas. As the whales' numbers began to decline, Karin wanted to help, and devoted nearly 200 hours on training focused on the environment the whales depend on. She sought avenues to pass that knowledge on to others and engage them through storytelling to change their impact on the ecosystem.
Continue Reading »
Upcoming Events
October Commission Meeting

Thursday
October 29
10:00 am-1:00 pm

December Commission Meeting - 2020

Friday
December 11
10:00 AM-12:00 PM

Zoom