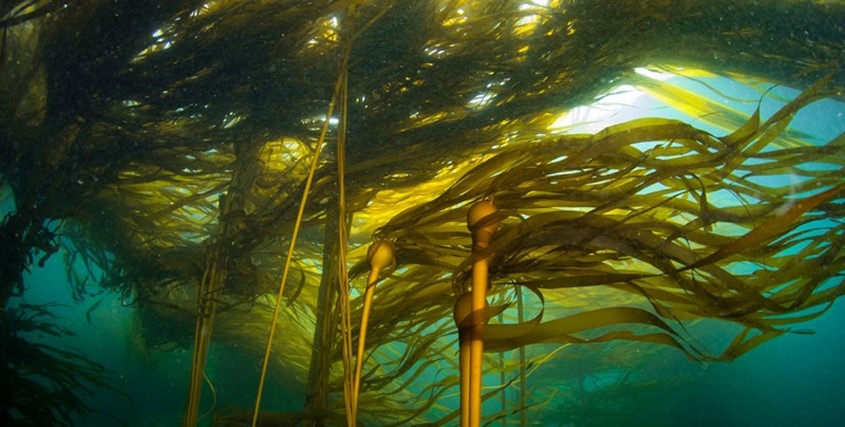 Puget Sound Kelp Conservation and Recovery Plan
The Puget Sound Kelp Conservation and Recovery Plan public comment period is now closed. Thank you to all who read the Plan and provided input.
Initiated in 2016 as part of the Puget Sound rockfish recovery effort, scientists and resource managers used a collaborative approach to review local science and policy relating to kelp forests. Coordinated action is needed to reverse downward trends in kelp populations by addressing both longstanding and emerging stressors. 
The draft plan is still available to read at http://bit.ly/KelpPlan_1219. After comments and other input are incorporated a final draft will be shared. If you would like to receive future updates about the Plan, please email us at kelp@nwstraits.org. 
The Northwest Straits Commission is a regional coordinating body comprised of people who care about the marine areas where they live, and who work together to protect and restore marine resources.
The Northwest Straits Commission carries out regional conservation projects and supports the work of seven Marine Resources Committees through funding, technical support, training and regional coordination.
Find us on:  Facebook   Twitter   Instagram   LinkedIn
More About Us and the Northwest Straits Region »
Become a Salish Sea Steward!

Skagit MRC

If you love Skagit County bays and beaches, science, and learning about the Salish Sea, AND you want to make a difference protecting and restoring these wonders, the Salish Sea Stewards program may be for you! Applications are now being accepted for the 2020 program.

The Salish Sea Stewards Program offers 40 hours of free citizen science training. In return, participants pledge to commit 40 hours of volunteer service in one year. Learn from local experts, meet new friends, and learn about the different volunteer opportunities to help make a difference in Skagit County.

Training starts March 10, and classes are held Tuesday afternoons. Space is limited - apply before March 1! Learn more about the program and apply at www.skagitmrc.org.

MyCoast in winter

Northwest Straits

The last of the season's king tides happened last week around Puget Sound, and we're encouraged to see all the photos shared through the MyCoast app. Winter storms may have contributed to a few vessels becoming derelict, and we've seen some of those reports on MyCoast, too. One beach visitor submitted a report of a marine mammal that we were able to direct to the Marine Mammal Stranding Network for follow up.

MyCoast is a useful tool for anyone to report marine debris and other beach conditions to agencies. Before you head to the beach next time, download the MyCoast app and share what you find!

Bull kelp featured on Island MRC website

Island MRC

Did you know about 9% of Island County's shoreline has associated bull kelp? Have you wondered what volunteers are doing to monitor bull kelp? Want to see some of the amazing marine life found within kelp beds? You're in luck!

Island MRC recently updated their web page on bull kelp monitoring with new information, videos, and the report on the 2019 monitoring season. Learn more about the project and the importance of bull kelp in the Salish Sea ecosystem. Click here to check it out!
Member Spotlight: Dr. Megan Dethier
San Juan MRC
Dr. Megan Dethier is a Research Professor in the Biology Department at the University of Washington but is in full-time residence at the Friday Harbor Laboratories, where she is Associate Director for Academics and the Environment. She did her undergraduate work at Carleton College in Minnesota, then PhD work at the University of Washington. Since ~1978 she has been in working on the shoreline ecology of the Pacific Northwest.
Continue Reading »
Upcoming Events
Friday
February 28
10:00 AM-12:00 PM

To join the WebEx meeting, click here. Enter your name and email address and click "Join."

For audio conference, dial: 1-415-655-0001, access code: 804 689 071. 

WebEx

2020 NWS Initiative Retreat

Thursday-Friday
March 26-March 27


April Commission Meeting

Friday
April 24
10:00 AM-12:00 PM

 To join the WebEx meeting, click here. Enter your name and email address and click "Join."

For audio conference, dial: 1-415-655-0001, access code: 803 845 100.

WebEx