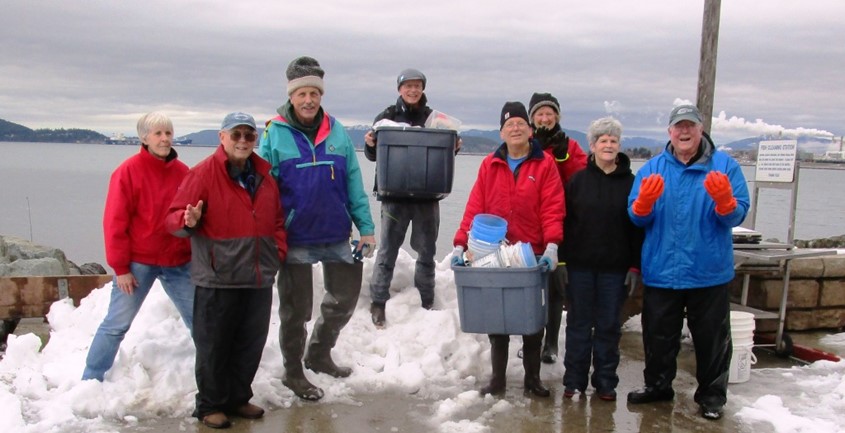 Forage Fish Spawn Sampling in Winter
As we turn the corner from winter to spring we want to thank our dedicated volunteers who braved the cold wet winter to regularly sample our local beaches for forage fish spawning. Here in the Northwest Straits region, there is no off season because forage fish spawning has been detected in every month of the year.
In 2016, the MRCs, Northwest Straits Commission, and Washington Department of Fish and Wildlife began an index site sampling program to better understand seasonal patterns of forage fish spawning. Once a month, volunteers return to the same beaches to carry out the forage fish survey no matter the weather.
Learn more about forage fish here.
The Northwest Straits Commission is a regional coordinating body comprised of people who care about the marine areas where they live, and who work together to protect and restore marine resources.
The Northwest Straits Commission carries out regional conservation projects and supports the work of seven Marine Resources Committees through funding, technical support, training and regional coordination.
Find us on:  Facebook   Twitter   Instagram   LinkedIn
More About Us and the Northwest Straits Region »
April Commission Meeting
April 24
WebEx
Clallam MRC offers Spring Internships

Clallam MRC

Clallam MRC is looking for qualified candidates to fill two spring intern positions that will work closely with MRC members and Makah and Lower Elwha tribal biologists on projects to protect and restore marine resources.

One intern will be part of a smolt trap monitoring project on Tumwater Creek in Port Angeles, and the other will assist the Makah Tribe's Marine Ecology program with their efforts to trap invasive European green crab in estuaries on the Makah Reservation.

The deadline for letters of interest is March 9. If you are interested in being an intern, or know someone who might be, learn more on the Clallam MRC website. 

MyCoast in winter

Northwest Straits

The last of the season's king tides happened last week around Puget Sound, and we're encouraged to see all the photos shared through the MyCoast app. Winter storms may have contributed to a few vessels becoming derelict, and we've seen some of those reports on MyCoast, too. One beach visitor submitted a report of a marine mammal that we were able to direct to the Marine Mammal Stranding Network for follow up.

MyCoast is a useful tool for anyone to report marine debris and other beach conditions to agencies. Before you head to the beach next time, download the MyCoast app and share what you find!

Bull kelp featured on Island MRC website

Island MRC

Did you know about 9% of Island County's shoreline has associated bull kelp? Have you wondered what volunteers are doing to monitor bull kelp? Want to see some of the amazing marine life found within kelp beds? You're in luck!

Island MRC recently updated their web page on bull kelp monitoring with new information, videos, and the report on the 2019 monitoring season. Learn more about the project and the importance of bull kelp in the Salish Sea ecosystem. Click here to check it out!
Member Spotlight: Ryan McLaughlin
Whatcom MRC
Ryan moved to the Pacific Northwest in 2010 working as a field scientist and scientific diver for the University of Washington and a private environmental consulting company.
Continue Reading »
Upcoming Events
April Commission Meeting

Friday
April 24
10:00 AM-12:00 PM

 To join the WebEx meeting, click here. Enter your name and email address and click "Join."

For audio conference, dial: 1-415-655-0001, access code: 803 845 100.

WebEx

May Commission Meeting

Friday
May 29
10:00 AM-3:00 PM

*Time may change due to ferry schedule.

Friday Harbor, San Juan County

June Commission Meeting

Friday
June 26
10:00 AM-3:00 PM

Whatcom County