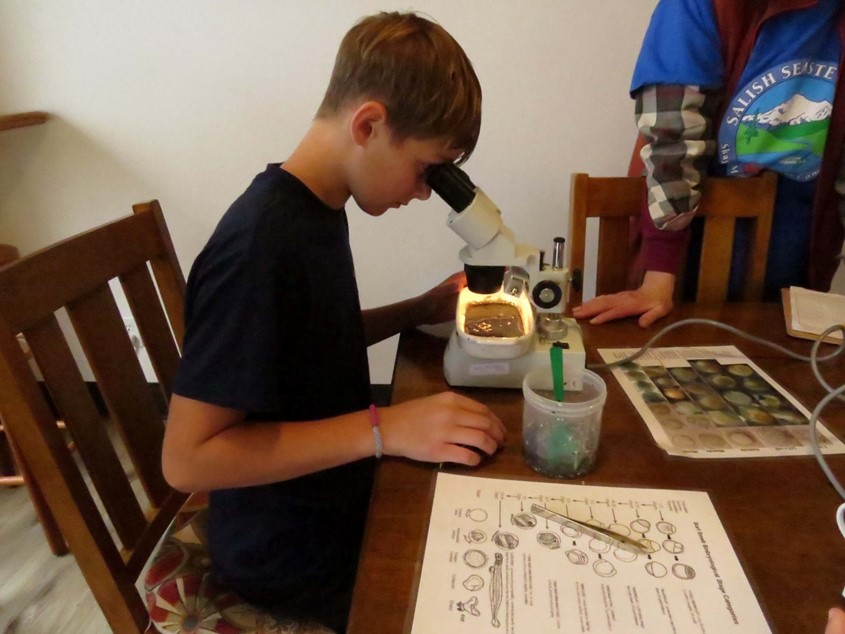 Kids on the Beach
In October, Skagit MRC welcomed 60 8th-grade students from Conway for an engaging educational experience. The students were immersed in a comprehensive curriculum covering forage fish and estuarine food webs. They also learned about forming hypotheses and generating experiment ideas. On October 4th, the students actively participated in forage fish surveys at Fidalgo Bay. After their fieldwork, they spent two days in the classroom, analyzing data and crafting presentations based on their findings. 
The Northwest Straits Commission is a regional coordinating body comprised of people who care about the marine areas where they live, and who work together to protect and restore marine resources.
The Northwest Straits Commission carries out regional conservation projects and supports the work of seven Marine Resources Committees through funding, technical support, training and regional coordination.
Find us on:  Facebook   Instagram   LinkedIn
More About Us and the Northwest Straits Region »
December 2023 NW Straits Commission Meeting
December 08
Virtual on Zoom
Orca Recovery Events

Clallam

Clallam MRC reported that 279 individuals participated in Orca Recovery Events in October & November!  

Event partners included Clallam County Marine Resources Committee, Jamestown S'Klallam Tribe, Lower Elwha Klallam Tribe, and the Port Angeles Garden Club. Together they hosted five educational programs and two volunteer restoration events throughout the Olympic Peninsula to bring awareness to the plight of the Southern Resident killer whales, and aid in salmon recovery. 

Monitoring forage fish spawning

Jefferson MRC

Jefferson MRC conducted its ninth year of monitoring forage fish spawning activity at Fort Townsend with surveys in October and November 2023.

Forage fish play a crucial role in marine ecosystems, serving as a primary food source for various species and contributing to the overall health of coastal environments. Jefferson MRC volunteers monitor various sites for forage fish spawning activity in partnership with Washington Department of Fish & Wildlife.

Mussel Watch

Whatcom & Snohomish MRCs

Mussel Watch a monitoring project led by Washington Department of Fish & Wildlife (WDFW) harnesses the power of citizen science volunteers to assess nearshore contamination in Puget Sound. WDFW staff and local volunteers place mussel cages at monitoring sites throughout Puget Sound, where the mussels feed for several months. When the mussels are retrieved, they are subjected to contaminant analysis. The outcomes of this collection and testing program helps to identify specific contaminant hot spots and evaluate the effectiveness of ongoing efforts to mitigate them over time.

Whatcom MRC recently deployed two mussel cages at Birch Bay on November 13.

Snohomish MRC also recently deployed mussel cages at eight locations on November 13. These cages will be retrieved in early 2024.
Member Spotlight: Jeff Ward
Clallam MRC
Jeff Ward is a marine ecologist who retired in March 2015 as Senior Program Manager at the Pacific Northwest National Laboratory in Sequim. He has over 35 years' experience designing, implementing, and managing multidisciplinary environmental projects that assess ecological and human health risk and explain the tradeoffs associated with various management actions.
Continue Reading »
Upcoming Events
December 2023 NW Straits Commission Meeting

Friday
December 08
10 AM-12 PM

Join Zoom Meeting
https://waecy-wa-gov.zoom.us/j/82848562954?pwd=bnlZMHNnUW5wZkw2aHFVREpNQjZRZz09 

Meeting ID: 828 4856 2954
Passcode: 152250

 

Virtual on Zoom

January 2024 NW Straits Commission Meeting

Friday
January 26
10 AM-12 PM

Virtual on Zoom

February 2024 NW Straits Commission Meeting

Friday
February 23
10 AM-3 PM

Padilla Bay Stevens Center - 10381 Bayview Edison Road Mount Vernon